E971 tunic disaster
Added Jun 26, 2011
London, United K...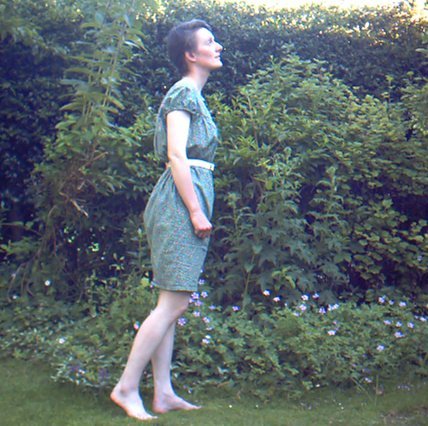 ShareThis
Description
I really wasn't happy with this dress.
It was my first Burda project. The only reason I picked this pattern was because it was one of that season's free downloads, so I suppose I can't really complain – but frankly, I can't imagine how this tulip-skirt tunic shape could ever suit anybody. It certainly doesn't suit my figure or posture! It just looks like someone with a grotesquely bloated body wearing a skirt that is hobbling her at the knees; the line diagram on the pattern was frankly misleading as to the shape of the dress, and the cropping of the pictures conceals just how short even the 'long' variant comes out. How to make a size 8 look like a size 20 in one easy step….
Used to the freedom of long skirts (and there's a sentence that would make a few people stare), I find this tight mini-length catches me at the back of the knee when I try to climb the stairs or to stride out as I walk; the dress hitches up on my buttocks and sags out in front, and the neckline was so wide that, having put in all the work finishing and facing the bodice and gathering it to the skirt, I then had to design, cut out and stitch on eight crescent-shaped infill pieces (and their associated sewn-in interfacing) in order to be able to fit any underwear underneath it… not quite what one wants to tackle in a first-ever dress-making project.
Searching for other surviving E971 projects on the BurdaStyle site, I find that almost without exception people either added a belt, widened the skirt or cut it off altogether; one can see why. With a broad belt added to create definition, the dress is just about wearable in an Ancient Greek way – though it still tends to pool unattractively below the belt – and I have it out occasionally in a heatwave (like today). I've only just noticed that the elastic on the left-hand sleeve cuff has come adrift: oops.
Fortunately, the pattern of the cotton is so fussy that the neckline inserts really aren't visible at all at a range of anything more than six inches. But if you think these pictures don't look too bad… that indoors picture is the best of twenty or so last-minute attempts to get anything that looked even vaguely like the pattern photos when unbelted. The 'does my bum look big in this sack' photo at the end was included as representative of all the deleted pictures from the outdoors shoot that inadvertantly showed what the tunic really looks like in everyday wear!
As for the fashion genius who dreamt up the 'tulip' dress: sorry, but I went back with gratitude to the allegedly unflattering (and, at that period, unfashionable) 'tea-length' skirts that emphasise the line of my waist and ankles rather than my stomach and knees.
Material Notes
Some scrap cotton with a small red and yellow flower print. I had quite a length of it, but after making this dress I decided I actually didn't like it very much and gave the other half away to a quilting group!
Categories
Credits
Burdastyle.de