Dresses for the Girls
Added Jul 20, 2015
by sewknitting
Cincinnati, Ohio...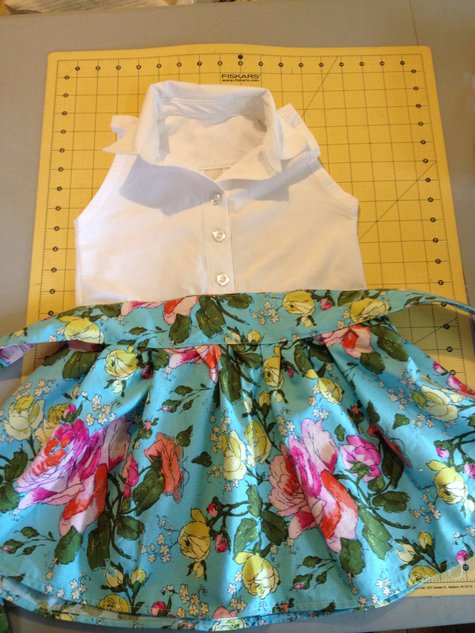 ShareThis
Description
I made my two youngest nieces a dress each.
I used a collared shirt pattern for the top of one (made it sleeveless and added binding) and just a gathered skirt for the bottom. I added a sash because I thought it looked better that way. I also added pockets to both skirts to get some practice, it was very easy. I thought the skirt fabric was pretty. My first choice sold out before I worked up the nerve to order more expensive than I normally do, lesson learned. I was inspired by a 50s style dress I'd seen (for girls) on pinterest, it's not an exact replica but I thought it came out pretty good and it fit well.
The second was inspired by a dress I'd seen floating around pinterest as well, it was a pattern you could buy but I'm cheap and thought I could figure it out for myself. I just used a pattern for a bodice I already had and played around a few times to get the size/shape of the heart back right. I think it came out OK, it would have been better if I'd remember to do the trick I learned for sharp corners (link below). I just learned it and used it on all my muslins (and the collared dress) but completely spaced when it came to actually sewing it. Oh well. I really loved the flamingo fabric. I'd seen it before and always came back to it, thought it would make a really cute dress.
http://mellysews.com/2014/05/sew-collar-points.html (link for sharp corners, it really works).
Material Notes
All the materials are 100% cotton. The flamingo fabric is Michael Miller border print, I can't remember what the other floral fabric was. I found both on fabric.com. The collar shirt part was just some plain white fabric I had laying around.
Difficulty
Intermediate
Categories