Dress with seams, seams, seams
Added Apr 7, 2013
Melbourne, Austr...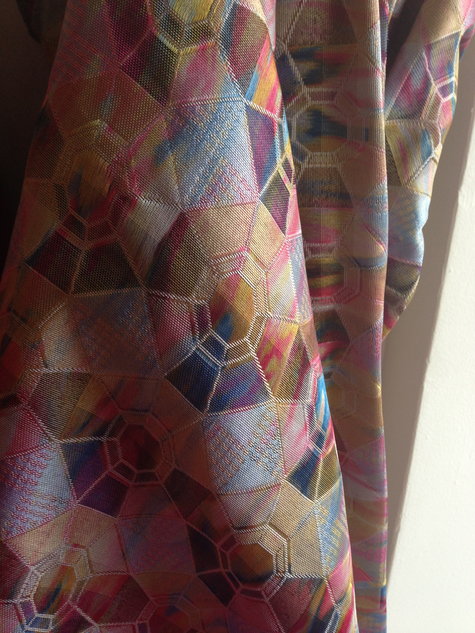 ShareThis
Description
Much like childbirth, the pain of deciphering Burdastyle patters fades quickly after the overwhelming euphoria of completing a project – until the next time. Urgh – it struck again. There's multiple sentences given to a tip of using a wooden spoon to press open the shoulder seams, but scant instruction given to much else. I don't know why this still surprises me, but maybe the sense of satisfaction of knocking out a rockin' frock is greater for this reason.
So I'm particularly proud of this dress. This is probably my most ambitious project to date – my first fully-lined garment with a fancy, expensive fabric and an invisible zip. It's some kind of shot jacquard with a geometric pattern purchased from the flash fabric place in Richmond that's moved next to the post office presumably for the express objective of bankrupting me. Right now the fabrics are all half price.
I didn't have time to sew a draft version, so cut and sewed with added care, even making proper grown-up use of my previously mostly ornamental sewing dummy. The dress is rather straightforward, but I spent lots of time ensuring the side seams were the perfect fit. I also spent way too long trying to match up the left-hand front dart with the skirt seam, which I could have avoided if I'd better marked the dots. I also kind of forgot how to do pleats and if I followed my interpretation of the pattern they would have weirdly overlapped, so I winged it and was rapt with the result. The invisible zip is slightly more visible than it should be and the neckline is probably two centimetres too high, while the lining around the vent could probably have been better. Still. It's a ripper fit and the fabric is divine.
FYI, I raised the hem by a good four or so inches for a less frumpy length, but was delighted that it was a 'tall' pattern and I didn't have to meddle with the waist. I sewed an 80.
This dress was made for two April weddings. It was a hit at the first – attracting compliments from people who didn't even know I'd made it and thus feel obliged to comment. For added smugness, my good friend also handmade her dress for the wedding in an equally as sumptuous fabric.
Here's to the second wedding.
Difficulty
Intermediate
Categories