Dress Form DIY - Solo Project!
Added May 26, 2014
by Maiv Lauj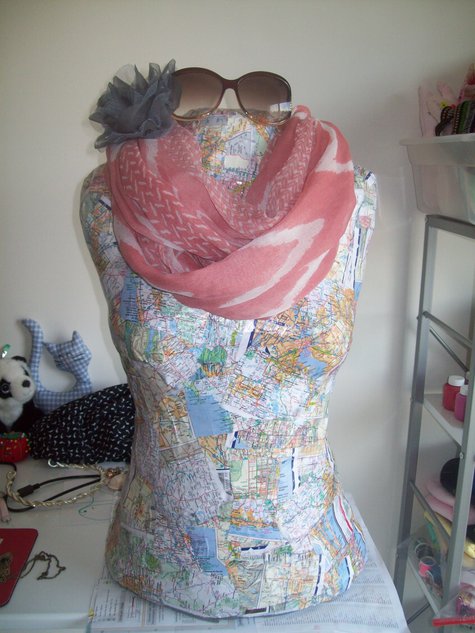 ShareThis
Description
Check out my new friend, Miss Emma Charlotte! Isn't she a beauty? She's exactly my size, perfect for making those summer dresses!
My project is based on another project: http://www.burdastyle.de/anleitungen/how-to/wie-geht-eigentlich—eine-massbueste_aid_2704.html.
Unfortunately, I've forgotten much of my German from high school… Not only that, I was not able to link my project to the original creator's because it's in German, and BurdaStyle's typing system could not find it… :(
This is how I pieced together my dress form – all by myself! (Warning: Directions may be confusing so feel free to check out the original link with pictures.)
1. Wearing the t-shirt you plan to sacrifice for this fun project, tie your hair up if needed and use a headband to help get all your hair out of the way. Then wrap your whole neck area with saran wrap.
2. Wrap duct tape around your waist to just below your chest.
3. Tape starting at your heart center and up to your shoulders, if you are flying solo. If you have a friend, have them tape from your heart center, up to your shoulders, and behind your back.
4. Continue wrapping your chest area until it is completely covered.
5. Wrap around your waist and down to your hips.
6. If you are flying solo, you still need to wrap your back. (If you had a friend help you, scroll down to Step #8.) This gets tricky…but it's possible! Take 5 in. strips of tape and starting from the top of your shoulder, wrap BEHIND. It may not be perfect, but we really just need to get some tape back there. Continue this 4-5 times for each shoulder.
7. Take about 10 in. strips of tape and starting from the top of your shoulder, carefully "throw" it diagonally so that it crosses your back. You will create a big "X" on your back with the tape. Do this 2-3 times per shoulder. There will be some spots on your back without tape – that's okay! We'll fix that!
8. Cut your shirt off either from the front (if flying solo) or from the back. You will cut from the bottom straight up to the top.
9. Once you get the shirt off, tape the area that you cut back together. If you were flying solo, be sure to go over the back area and tape up anything that is not taped already.
10. Tape the neck area along with where your arms were.
11. Stuff with whatever your heart desires. Be sure to really stuff the shoulders, neck, and chest area so they turn out smoothly.
12. Set your dress form on top of the piece of cardboard and trace the hip area onto the cardboard. Cut the oval shape out. Insert the shape into the bottom of your dress form and tape to your dress form.
13. Rip pieces of paper into small squares.
14. Mix mod podge with water (I used 1 part water and 3 part mod podge).
15. Dip the paper into the mixture and put on your dress form.
16. Completely cover the dress form 2-3 times.
17. Allow it to dry.
18. Get creative!
Again, I didn't come up with this idea. It was from another creative individual out there who so kindly shared it with the world! And now, I share with you my Emma Charlotte.
Good luck and be well!
Material Notes
-1 roll of duct tape (50 yd – I got mine at Walmart for $2.72!)
-saran wrap (about 2 feet)
-a t-shirt (preferably one that fits you well and is a tad long – slightly below your hips)
-scissors
-a headband if you have long hair
-something to stuff your dress form (I used a full size comforter, a prom dress, two shirts, and plastic bags…you have to get creative, guys!)
-a piece of cardboard (maybe at least 15″×15″? This really depends on the size of your hips.)
-newspaper (or any kind of paper really)
-mod podge
-water
-paintbrush
Difficulty
Novice
Categories
0 Comments