Draped collar dress with crossed sleeves THE PROJECTION OF S...
Added Jun 14, 2010
by hajnika
Bucharest, Romania

Step 2 Step2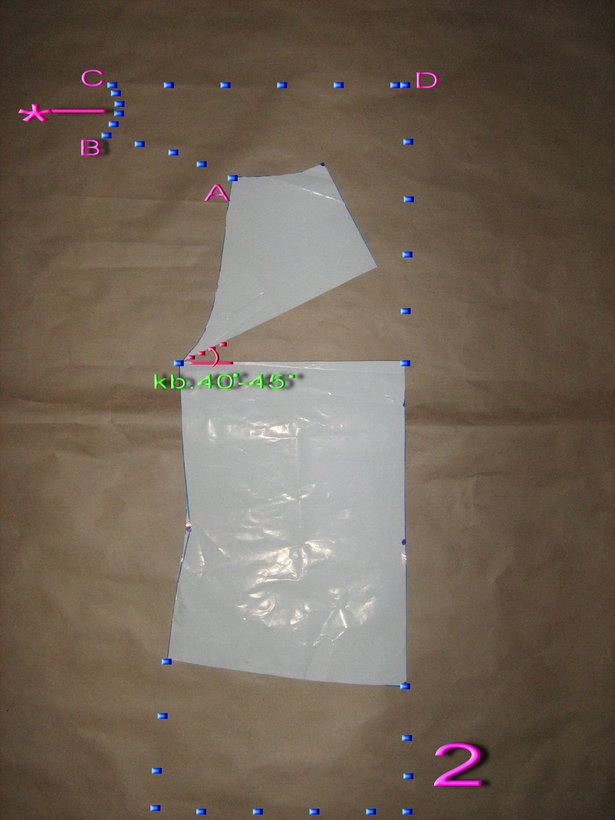 You have to modify the front part in the following way:
a.) Cut the sewing pattern at the level of the armpit and then move it the (already cutted)upper part with 40 -45 degrees,as in the picture.
b.) -The line (where are the blue dots) between AB points is the extention of the armhole.To get AB you need to measure the distance between the marked points as in the picture 3.
-In the picture 3 the middle of the neck is marked with a star ,in the same way is marked the armpit.Measure it ,and then deduce the armhole and result the distance between AB points.You need to leave AB longer with 2-3 cm,in order that to have not problems,that remains shorter.
c.) There is a line marked with blue dots between BC points.This will be the vertically sewing line of the middle of the neck(collar).
d.) There is the line between CD points will be the real neckline.
e.) The blue dots under the D point are the continuing of the middle of the front part.
f.) The lower part of the front sewing pattern is elongated ,with blue dots for the dress sewing pattern.
0 Comments on Step 2