Disreputable Bear
Added Jun 2, 2011
Bathurst, Australia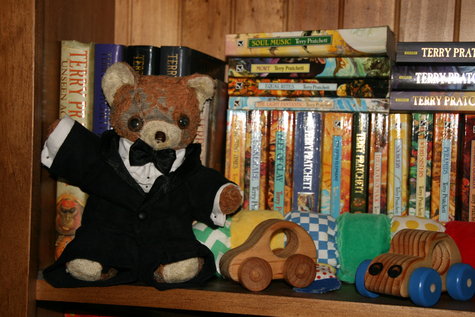 ShareThis
Description
This is my beloved's childhood teddy bear. When I first saw this bear I couldn't believe it had been kept. The fabric was full of holes, one of the eyes had almost fallen out- I'm not sure what was holding it in as the whole side of the head was a mess of "laddered" fabric. Most of the bear is bald. I'm really sorry that I didn't take any before photos but I actually did this little repair job about 6 years ago and I didn't own a digital camera back then.
So the story goes that I went to his house while he was at work and got his housemate to help me abduct the bear. I then went home and spent 2 days repairing what I could (quite a laborious hand sewing job) and making the suit to cover up the majority of the threadbare fabric.
There was no pattern, I just manipulated the fabric on the bear until I got the effect I was after. All the fabric and beads are scraps from other projects.
He did start out with a rose in his lapel- a tiny miniature rose from a bush at my parents house but that is long gone.
And after all that I am quite fond of this disreputable old bear too!
Material Notes
scraps of cotton, synthetic micro suede, charmeuse, ribbon, beads.
Difficulty
Novice
Categories