DeliSiSimo
Added Nov 2, 2011
by deliov
Slatina, Romania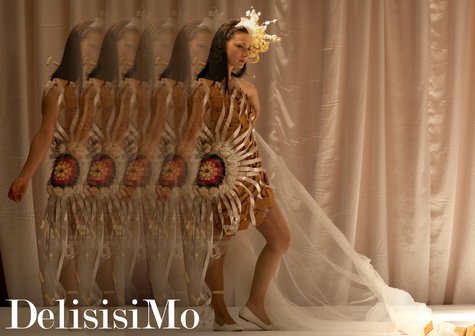 ShareThis
Description
Materials and techniques used: nonconventional materials smeared crackers, marshmallows, candy, rods, etc.
Year in which it was conceived and executed: March 2010
Message: The concept of creating a suit experimental foals, has as its starting point the specific characteristics of Gothic rosettes, round a flower, stylized, being composed of edible items.
"DeliSiSimo" take the rosette features, the game full, empty and transparent and renders the idea of ​​monumentality by overlapping circular layer upon layer.
Dress is based on creative freedom, first was conducted based on a dress with a special cut from a transparent material like tulului, which were then individually inserted edible objects.
Rosette made ​​of gummy candy sitting harmoniously in terms of color and composition, is the leitmotif kept. It is a meticulous execution that takes time and patience. Starting from the general form of rosette, are seated round biscuits one by one, which due to rigid consistency allows relatively easy processing sinuous forms of the female body.
Overall composition is asymmetric, rhythmic and harmonious, highlight the female figure and sensual materiality send an attitude and appetizing.
DeliSiSimo addressed an audience is a maverick outfit that "taste" and seeks novelty, uniqueness and creativity. His presentation can be done both by performing a show, exhibition of costume workshop and as a decorative object.
Difficulty
Expert
Categories
0 Comments