Das Doryon
Added May 8, 2010
by wzrdreams
Brooklyn, New Yo...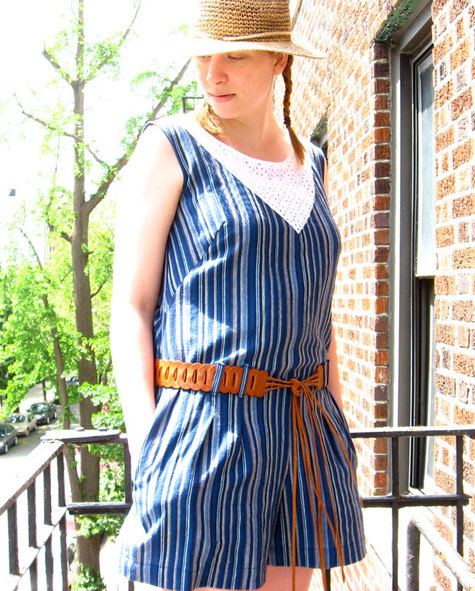 ShareThis
Description
Back in February I got wicked tired of WINTER and I'd been obsessing/stalking jumper/onesies all over the interweb. I'm really more interest in the slouchy variations of the style, but ever since Doryon came out last spring I'd been smitten with the frenchified darts and peek-a-boo inset. However the stingy single pocket, shoulder closure (NO thank you) and labor intensive inset gave me pause. I would have to modify this in several ways to make it work for me.
The first decision was to skip the handworked inset and use eyelet instead. I simply bound the top edge with purchased double fold bias tape. I'm not thrilled with how it ends at the center back and I might add some sort of nautical frog closure when I find one.
Second design driven modification; I had in mind a nautical look so I wanted to use this linen stripe – but I didn't like how the stripe would work with the top bust dart so I moved that dart excess around to the side dart.
Last design modification was to move the zipper to the center back so I could have a 2nd pocket. Hurrah!
Practical modifications: I am tall; real tall. 5'10.5". Most patterns are made for the "average" 5'6" femme. I know that I need 3/4-1" extra in the bodice, 2 inches extra between my waist and low hip, and whatever else at the bottom hem of whatever I make. Since this is a jumpsuit and I definitely don't want to chafe my lady bits with some camel toe, I lengthened the bottom in the rise by 2 inches and I lengthened the bottom hem by at least 2 inches. I may have lengthened the bodice but I can't remember right now. I also blended from a size 42 on top to a 44 on bottom. I'm not sure I really needed the 44 on the bottom, but it didn't hurt.
Conclusion: I'm not sure how much I actually love the stripe now that it's done. I'll wear it for sure, but I think a solid or a more subtle stripe may have worked better. Also, the belt pattern is not very generous in the length. I decided I wanted a buckle rather than snaps and forgot to add length to the piece I cut out (mistake), and the construction instructions for the belt are NOT GOOD (ddrrrrr). I'm STILL trying to turn my belt right side out. Anyone wanting to make this should do themselves a favor and make up their own belt. Also, I wish I had made the belt loops longer so I could fit more/any of my purchased belts through them.
ETA: I had to reorder my construction due to my pattern modifications. The construction went like this:
Sew front bust darts & press down.
Install the front & back insets, serge SA closed, press down & edge stitch.
Sew back princess seams, serge fin, press towards side & edge stitch.
Sew bottom front & back pleats. Serge finish inseam allowances.
Sew top backs to bottom backs, serge fin SA closed, press down. Serge finish side seam allowance.
Serge CB and CF bottom seam allowances. (do not sew center seam yet)
Install CB zipper.
Sew inseams, press open.
Sew bottom rise from CF to CB below zipper setting, press open.
Sew front waist seam, serge SA closed, press down & edge stitch.
Pin pockets to bottoms @ side seams; stitch. Serge finish side seam allowance, catching pockets. Under stitch front pkt pc to front SA.
Sew side seams. Press SA open. Stitch pocket bags closed.
Sew shoulder seam, serge SA closed, press back.
Hem: 1/2" bend back, 1 1/2" hem. Top stitch.
Sew armhole facings to A/H openings.
Apply neckline piping/binding.
Belt & loops.
Material Notes
Linen stripe (some shop on 39th st), cotton eyelet (Mood)
Difficulty
Intermediate
Categories
May 9, 2010, 03.40 AMby judeb
This project is based on
Make it