Darling Bjork-vote for me on AA.com!
Added Oct 20, 2009
by ashchaser
Nashville, Tenne...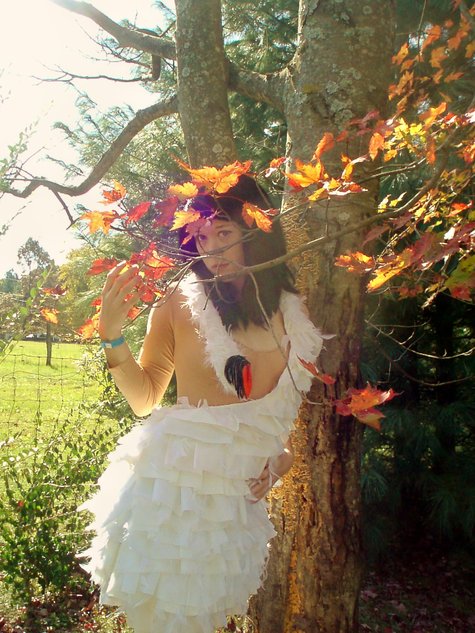 ShareThis
Description
Alright! I know some of you have been waiting a while to see the final outcome of my project, but no one has been as anxious as I have to get it all together and looking good, et voila! The swan dress!
This has taken me 5 weeks to make, 3 yards of charmeuse, chiffon, muslin, linen, organza, and some old American Apparel tshirts, half a feather boa, alot of hot glue, a spool of cotton thread, polyester fiberfill, floral wire, a zipper, and some more feathers for the swan head.
This has been the most time consuming and difficult project I have taken on since the Breast Nest last fall and for good reason:
1) created a basic bodice front with skirt, trimmed the front to cover half my form's chest
2) next I began to attach the ruffles, 33 rows in alternating knife pleat patterns on the front and back of skirt and bodice (all but 2 rows were stitched by hand while watching my love Dexter)
3) seamed front and back skirt pieces to fit my size
4) added zipper on the right side
5) began to attach feathers by cutting them off boa, and hot glueing them one by one onto each layer of ruffles to add body and fluff
6)I eventually made 3 swan necks before I got the right shape and size for my neck and chest
7)hot glued feathers to the neck and created the swan face out of a few feathers left over from another project(i dont love the swan head, but i did the best with what i had!)
So in all I really love this dress, its so warm to be so scandalous, and I would like an egg to bring but I just dont feel like sewing anything else for this! I am so glad I finally knocked this project out, I have been in love with the design for years and Bjork is my alltime favorite singer with the most creative style and music. Hopefully Halloween will be unseasonably warm this year or I will have to wear my pea coat with it, not bad but it won't be as "shazam!".
All I have left to do is draw Bjork's compass tattoo on the arm of by bodysuit, take in the zipper a bit so that it will be very high-waisted, and style my wig a bit more. and practice that awesome accent while rambling about putting nickels in my stove and whatnot…
If you love this pleeeease stop by AmericanApparel.com and vote for me! Thank you!
Material Notes
No pattern was used to make this, it was all guesstimated at a larger size and taken in to fit me best. Yet I do have to thank my grandmother Eudora for donating all of the fabric used! It saddens me that she has decided to cease her sewing career, but it makes me very happy that she is passing on all of her knowledge and fabric to me!
In all my costume has cost me $25 dollars, I have only had to buy a feather boa, wig, thread, and bodysuit!
Difficulty
Intermediate
Related Techniques
Categories
1 Reply

Oct 21, 2009, 04.11 PMby lizah

Oct 21, 2009, 03.03 PMby alden

Oct 21, 2009, 01.09 PMby ana555