Curtain-A-lining skirt
Added Feb 3, 2011
London, United K...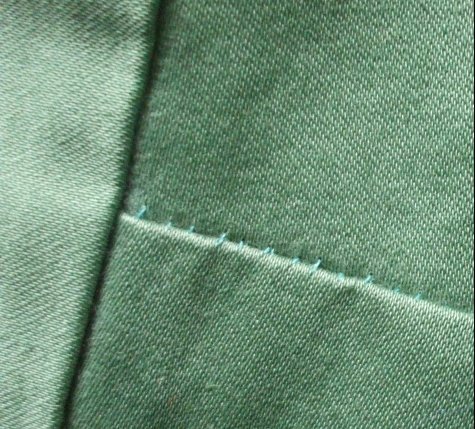 ShareThis
Description
This was my first attempt at cutting a pattern to my own size; it is a simple six-gore A-line skirt consisting of a single pattern piece for the repeated panels, plus a long rectangular strip for the waistband. I was terrified of making the waistline too small – it could really afford to lose an extra inch or so here, and as a result tends to stand out at the front or else sit too low on the hips: I like a higher waistline. I've pulled it up to its proper position for the pictures, but over the course of the day it does tend to descend!
Length is 'the regulation two inches below the knee', which allows me to wear long socks instead of nylon tights (which I dislike). The skirt has a good wide swing to it so that I can step out at a fast pace and/or get my foot up onto the bed to tie my shoelaces….
At this point I hadn't learned how to do any of the more sophisticated – and less laborious! – methods of hand-finishing seams, so every single one of those six 26-inch seams was blanket-stitched from top to bottom to halt the fraying of the raw edges. The centre-back seam, being pressed open for the zip, had to be done on both sides, which meant it took twice as long again…. As a result, it took me about nine months to get round to completing all the finishing, during which time I went on wearing it with half the seams still raw on the inside. I learnt my lesson; nowadays I finish off_every_ seam before I start sewing the next one.
The seams are all backstitched by hand, using a spacing of about six threads per stitch: see extreme close-up. They should probably have been pulled a little tighter. The bottom hem and the inside of the waistband were blindstitched.
Nowadays I also take care to press the inside of my seams across so as to display the neat side of backstitch, and not the messy side as shown here….
Material Notes
This slightly stiff, slightly shiny dusty green material was, I'm fairly certain, originally curtain lining fabric. Anyway, I had a big bundle of it, so I used it for experimenting. The major drawback is that – as you can see from the back of the skirt, where I had been sitting down – it creases terribly at the slightest excuse.
Difficulty
Novice
Related Techniques
Categories
Credits
Patterns That Fit You