Curses and Cleverness
Added May 8, 2015
by aluckmann
Minneapolis, Uni...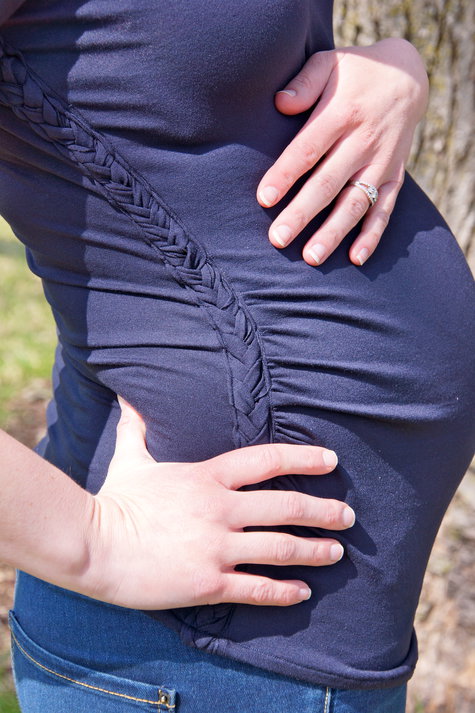 ShareThis
Description
I was originally planning to sew up another Megan Nielsen Ruched Maternity Top, but I decided that there were a few things about my first one that I would prefer to change. Namely, the shoulders were too wide and the chest opening felt too large. I have made several Renfrews, and I love the way that they fit, plus I prefer their clean finishes to the simple finishing in Megan Nielsen's patterns. With this in mind, I decided to mash the two patterns together to make a Megan Nielsen Renfrew. I do love the result.
However, there was one major bummer moment during the construction of this shirt – as I was overlocking the side seams for a nice finish, my sewing machine ate my shirt. Somehow the fabric got pulled in and folded. As soon as I noticed, a huge panic set in (followed by a string of curse words that I am ashamed came from my mouth). I went from thinking this is such a breeze to sew up, to thinking, oh dear, please let this shirt still be salvageable. Once I unpicked the overlocking – a task that took forever – I noticed that there was a small hole in my fabric. I searched the internet for ideas on clever ways to fix a hole in knit fabric. You guys, there was nothing out there! Aside from darning or covering it up with a patch, there was not a single truly clever idea.
Well, I decided that darning and patches are all well and good for old items that need repairing, but not my brand-new-not-even-finished-yet shirt. So, I came up with my own clever idea and added a fun detail of some braided fabric down both sides of the shirt. It gives my plain navy shirt a little something extra, and covers the hole in my fabric (which I did darn before I covered up).
For more, please stop by my blog.
Difficulty
Novice
Categories
For

Garment Type

Style

Material