Crossover Blazer 06/2012
Added May 23, 2012
Munich, Germany

Step 3 Sewing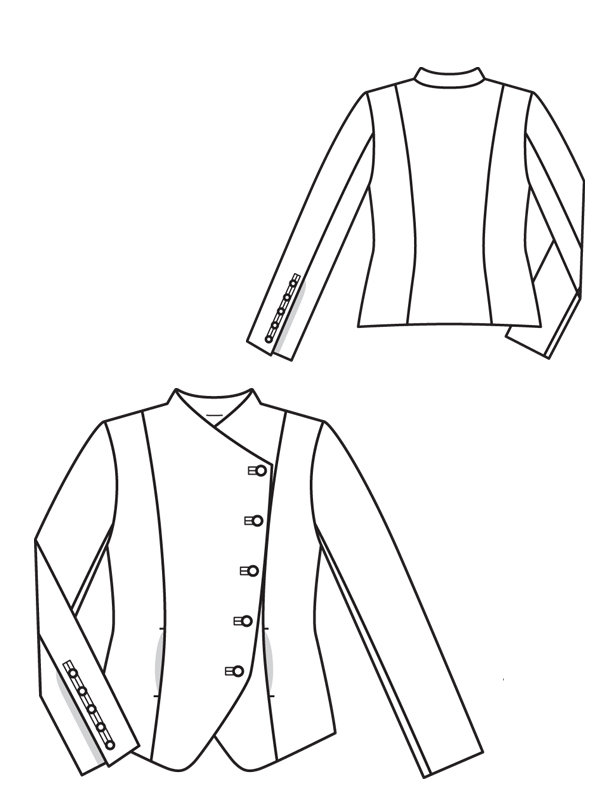 Outside layer of jacket:
Stitch side fronts to centre front pieces, right sides together making sure not to stitch across pocket openings. Press seam allowances open.
Inseam pockets:
Pin pocket pieces right sides together with seam allowances of pocket opening edges and stitch in place directly along marked seam lines. Press pocket pieces forward and stitch together. At ends of pocket openings.
Sew bound buttonholes in right front edge:
Working top buttonhole also on left front edge. For each buttonhole, cut a piece of fabric, on the bias, approx. 2 cm (3/4 in) longer than the finished buttonhole and 5 cm (2 ins) wide. Pin each fabric piece over buttonhole marking, right sides facing. Work from the wrong fabric side and use a small stitch setting to stitch a rectangle, 6 – 8 mm (approx. 1/4 in) wide, around the marked line. Slash between lines of stitching and clip diagonally into corners. Turn the fabric piece through the slash to the inside. Press seam allowances open. At ends of the buttonhole, pull the fabric strip flat and then baste it in place the basting should not be wider than the rectangular buttonhole opening. Take both long edges of the fabric piece and fold the piece into the opening, to form the lips of the buttonhole. The fold edges of the lips must meet, exactly at centre of buttonhole. Hand baste lips together with diagonal stitches and press. Work from right side of fabric to stitch exactly along seam, with small backstitches by hand, or by machine.
Undo basting. Remove basting. Stitch small triangles at ends of buttonhole to the lips.
Stitch back section seams, right sides together. Stitch back standing collar piece to back neck edge (seam number 3), beginning and ending stitching exactly at marked shoulder seam lines. Press allowances of collar joining seam open.
Stitch collar seams, from seam number 4, then continue stitching, to stitch shoulder seams. Clip seam allowances of fronts at seam marks. Press seam allow ances open.
Stitch side seams, right sides together.
For the buttonholes on each upper sleeve, sew one long bound slit, to the marked length, as described for bound buttonholes, above. On the finished slit, sew fold edges of lips together, 8 mm (a generous 1/4 in) long, spaced 2.5 cm (1 in) apart (= 5 buttonholes for the smaller buttons). Stitch back sleeve seams as far as slit mark. Clip seam allowance of under sleeves into corners. Press seam allowances open. Stitch front sleeve seams, right sides together.
Set in sleeves, easing sleeve caps, and matching underarm points. Trim allowances of sleeve attachment seams to 7 mm (1/4 in) wide, in area of underarm, and neaten edges of allowances.
Inside layer of jacket:
Sew as described for outside layer. Omit inseam pockets, bound buttonholes, and bound buttonhole slits on sleeves.
Join outer and inner layers:
Pin jacket units right sides together. Stitch together along hem edge, up front edges, neck edge, and collar edges, leaving approx. 20 cm (8 ins) open at centre of back hem edge, for turning. Turn jacket right side out and pulling inside sleeve layers into outside layers. On lower end of one sleeve vent, turn slit edges of outer and inner layers under and pin together. Reach up from bottom edge, between outer and inner layers, to grasp the pinned edges and pull them out. Stitch slit edges of upper sleeves right sides together, then continue stitching to stitch along edges of hem and underlap, stitching at right angle to sleeve seam at upper end of underlap. Trim seam allowances, trimming corners diagonally. Push sleeve layers in place again. Sew second sleeve in same manner. Press edges and sew seam opening closed.
Finishing bound buttonholes:
Mark ends of buttonholes with straight pins. Cut buttonholes open in inside layer and clip approx. 3 mm (1/8 in) diagonally up and down at the ends. Turn cut edges under and sew to lips by hand, with small stitches. On sleeves, finish bound buttonhole slits as instructed for buttonholes.
Patterns for this Project