Crochet Accessories to Spice Up Your Home Décor
Added Jan 6, 2014
Melbourne, Austr...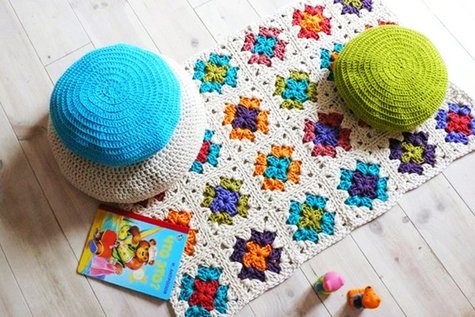 ShareThis
Description
Remember the simple old times when you used to play in front of the fireplace while your granny knitted a sweater? Every time I see a hand-knitted item – a doily, a pullover or even a pair of funky socks, it reminds me of my childhood. Since 2013 and now 2014 are devoted to reinventing long forgotten old trends, it's only natural to think about crochet too.
Why Crochet Rugs and Other Home Accessories?
The answer is pretty simple – they are bright, vivacious and downright fun. As you know everything DIY will accent your personal style and create a more homely atmosphere. There is an additional benefit to using crochet accessories – they can be machine-washed. So, you can relax and let your little ones play on a fabulous hand-made rug in white and blue for instance. Stains come out relatively easy, so cleaning shouldn't be a problem. You won't even need a team of pro carpet cleaners to take care of the piece of carpeting or your angel's favourite beanbag chair.
Make A Crochet Accessory On Your Own?
The most exciting part of making a crochet home accessories on your own is that if you have the imagination, you don't really need too much experience to begin with. Try to remember the lessons your granny has certainly given you about how to knit aeons ago. Nothing? Don't worry sites like YouTube, Instructables, About.com and eHow offer plenty of tips and free patterns to get you started.
The really difficult part is to figure out a creative way to integrate crochet in your home dcor. Let's take the intricate lighting fixture on the forth picture, you can make it all on your own with a simple light bulb, some cable, cubical frame and pieces of knitted material.
Don't forget, it's all about fun and creativity!
Material Notes
Knitting Needles;
Cotton Wool;
Imagination!
Difficulty
Intermediate
Categories