Creative Ways On Clothes Storage
Added Jan 15, 2014
Southampton, Uni...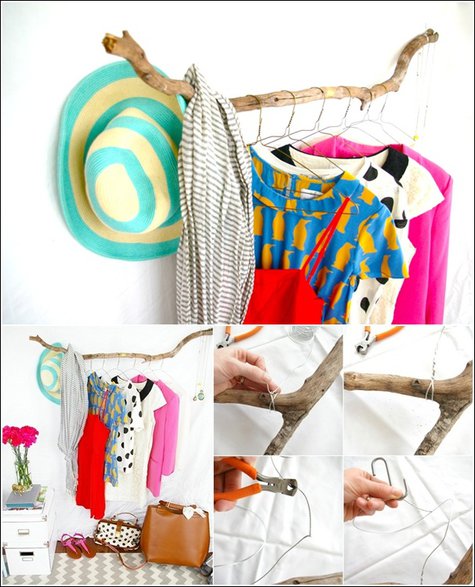 ShareThis
Description
We all know about the old way-your clothes in the closet. I am about to show you some interesting ways I ran into. Do not be scared do experiment with the atmosphere at your home. Creativity should not have any limits!
Can Tabs For Connecting Hangers
Have you ever faced the problem with lack of space at your wardrobe? I bet you do. In order to avoid throwing all of your clothes on a pile in the middle of the closet, try to take more benefits from your hangers. Do you wonder how? Combine two hangers with the help of can tabs. By doing this you will double the room at the closet and you will keep your clothes clean and unwrinkled.
Shower Rings
Are you tired of your old shower curtain? Or you simply need to replace it with a new one? Do not throw away the shower rings. Use them to help you with your scarf organization instead. Relocate them to your closet and add them to your hangers. This is a quick method to create a place for all of your scarf. It will definitely save you time in the morning when you usually have to go through all the scarfs in the drawer looking for the right one for your outfit.
PVC

Pipes. Really?
I am sure you have experienced all the fuss when your husband is searching for his favourite tie. An you probably hate those moments when he is angry with you because somehow he he has decided it is your fault. Save yourself the drama and incorporate a cut pvc pipes in a drawer. Sort his ties in the pipes and you will have them on display. You can put everything that fits in them-scarfs, socks, tights, you mention it. Plus, it looks cute!
Branch Hanger
I went mad when I first saw that. It looks so incredible to me, having in mind I love the nature. It is not hard to install, you will be able to do it on yourself. No help needed! Clothes look good when they are displayed in the room. Be sure you will impress everyone who comes to your home with your unique idea. Well, it is not that unique but still, it is awesome. And if you choose to add this to your closet, add a vase with flowers and you will have your own garden at your home!
An Exhibition
Yes, make art from your clothes. Turn your room into an art gallery. It is really simple-you just have to hang your clothes around the room and you have it! Choose the dressy, cute and girly pieces and use them as a dcor. You will be surprised of how they can boost your energy and mood just by watching at them.
Difficulty
Novice
Categories
Credits
Strong Move
0 Comments