corrections skirt
Added Feb 16, 2010
by janetheclerk
Durban, South Af...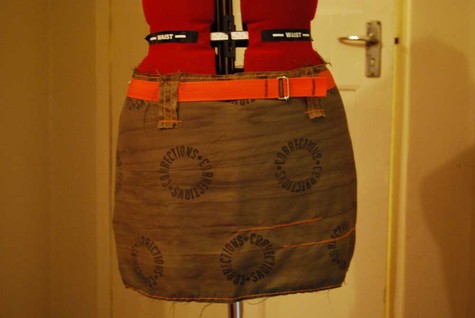 ShareThis
Description
i have been tasked with making little skirts for punk/skater girls, and in my travels looking for fabric, i came across an overrun of the fabric used to make prisoner's uniforms here in south africa. the department of correctional services is in charge of prisons etc, so the stamp 'corrections' refers to that. the uniforms (pyjamas really) are normally bright orange, which is referenced in the thread the belt. what i liked about using this fabric for this project, is the sense of misappropriating state property for the purpose of fun.
this is a mini skirt, and is really only meant for young things who still have the legs to show off. i certainly wouldn't be caught dead in something this short. it comes to just above mid-thigh. the size shown here is a size large, which is a 98cm (about 38 in) hip. this pattern is my own.
i am normally allergic to unfinished hems, but i took a decision to leave these ones unfinished, it seemed to tie in with the look of the skirt quite well. i secured the top and bottom with a doubleback stitch, which will ensure that the garment doesn't fray into oblivion.
Material Notes
the fabric is an overrun, so there are tears and weaknesses in the fabric. i fixed this by zigzagging over the 'errors', which you can see in this skirt.
given that it's an overrun, no one is terribly sure what type of fabric it is, but it feels like real cotton, and in the 30C heat we've had recently, working with it has been a dream. i think it's a calico cotton.
the colour is not uniform, with some areas having smudges and fading into lighter shades, or moving into darker shades. it's generally a bit of a messy fabric. i really like it, and at the all time high price of ZAR4.50 (USD0.60, GBP0.37, EUR0.43) per meter, 1.5m (60in) wide, i'm going to make myself a knee-length pencil skirt and possibly a little jacket.
Difficulty
Novice
Categories
0 Comments