Color Block Cowl Neck Knit Dress
Added Oct 27, 2012
by bashfulbird
New Haven, Conne...
Step 5 Attach skirt to bodice with sleeve for elastic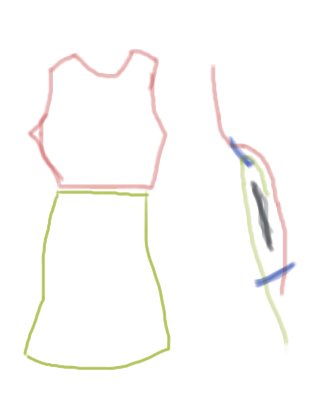 There's probably a much better way to do this, but this worked for me.
Sew the skirt pieces together for about two inches at the top. You'll figure out where to add the pockets later, so you don't want the whole sides sewn, but you need a bit sewn together to make the sleeve.
Sew the skirt to the bodice, right sides together, about 1.5" up from the bottom of the bodice (and at the edge of the skirt). After flippping it right sides out, fold this seam down and topstitch the bottom edge of the bodice to the skirt, not quite completing the circle (leave about 2"). I've tried to illustrate this, hopefully it makes sense (red=bodice fabric, green=skirt fabric, blue/purple=stitching, black=elastic), but basically, make a tube for the elastic.
Size your elastic. It should stretch at least the slips-over-your-head size that you used to scale the pattern, but it should have a slight bit of tension sitting around your waist. Thread your elastic through with a safety pin. Sew elastic together. Sew the channel closed.
0 Comments on Step 5
Patterns for this Project