CLARETTE AND THE RIVER
Added May 11, 2016
by Mirei71
***, Switzerland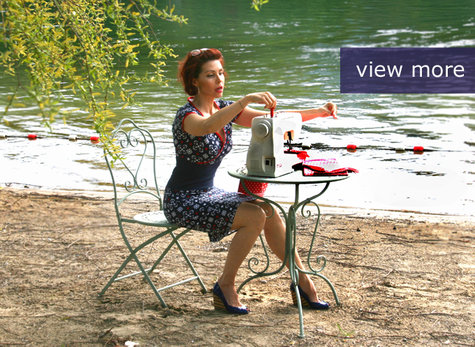 ShareThis
Description
Hello and welcome back on todays post you guys!!
Last Sunday was Mothers Day. Mothers Day, a day on which all the Mamas in the world are being celebrated and they get thankful presents and letters for all they do during the whole year. I have seen so many wonderful Mothers Day pics on Instagram, Facebook etc. this year and so I thought, I might tell you something out of a day of mine, as a mother of two. I do this not because I think that what I have to tell is really spectacular but rather because it´s just what thousands of other moms are experiencing and all around the world we deal with the same duties, issues and situations. Mother Nature does not make any difference whether famous or not, whether successful, businesslife or housewife. An Instagram post of superfamous megastar and mother of 4 Madonna shows it all. She posted a pic of herself running down the stairs with "DEALER" written on her handbag. She texts: "so much to deal with when you are a mother" followed by a row of running emoji´s. All the same. That´s what I thought. No matter if on the other side of the world and a billion times more popular or richer. When it comes to being a mum, all the same :-)
My day begins at 6.00am. Since there are these wonderful soft wake up melodies on our smartphone ti is not that much of a torture anymore… ;-) up and go! morning wash. check the weather on my smartphone if my planned shooting can take place. confirmed! I smile :-) I see after my daughter and make sure that she won´t be late for school and has everything packed. Still in my pyjama, first thing ever for me is my latte macchiato. I need this to get started… needless to say. With the latte in my hands I tiptoe downstairs, sneak into my atelier and say good morning to my sewing machine. I open the window and smell the morning air. From the corner of my eye I perceive some people on their way to work and if I am lucky enough I sometimes can catch the swan couple flying over my house. Always in a couple and unmistakeable in their sound. I often hear them before I see them, like today! It's a lucky day!! My acutal sewing project is proceeding well. An overall for my nephew. Next to it, laying on a chair is my finished summer dress which I have named Clarette, waiting for the shooting today. It's 08.00am and I have to quit my sewing room since I have to bring my little one to pre-kindergarden, have to do some food shopping, laundry, recycling tour, fetch my sweetie again, cook some lunch, eat, clean up, help my daughter on some homework… you know it all, I'm more than sure :-)
I the afternoon I steal some time for getting some inspiration on Instagram, to like what I like and to make a post there. Not too long, just as much as I allow my son to watch tv. I keep on checking the weather. On one hand I hope that it will be nice and warm, but on the other hand not too much, since then my minibeach will be crowded and make shooting diffcult. For now the situations seems perfect.
I start to prepare my dress, some accessoires and requisites. Whow! I almost forgot to load the battery of my camera… it's 18.00 and we are ready. My daughter and I sneak down to that little river beach and check the situation. Nobody there, perfect light! So we rush back home for make-up, styling, dress up and we drag everything down to the beach. The shooting has to be done before the sun will hide behind the hill. It's a battle against time, which we win! Our vision becomes reality and we have so much fun doing this that I even survive the cold water (11°C) without any cramps in my legs :-) It's done! It's a wrap! Everything has to be repacked quickly and back home, because dinner is waiting and with it, the daily evening ritual until the kids are in bed. Today I am really unpatient and can't wait to check the photos we have made, which once more are quite a few. Almost 400 on which I have to choose a selection. the biggest selection since I have this blog, probably. My summer dress Clarette is made out of the book "Nh Dir Dein Kleid" of Rosa P. (I don't know if an English version exists…) it is a combination of the pattern Clara and Lisette. This time I got the maritim fabric from Amazon. I thought I just try but it worked very well. I love this dress already so much. The fabric is soft jersey and so comfortable. I have implemented a plain dark blue part in the waist area to make it seem thinner on this part. This dress. One piece and you are ready to go! I will surely sew some more dresses from that book! And have you seen the borders? (haha) if you have read my last weeks post you know what I mean ;-) Pleased with the result of the shooting and our work today I enter my atelier once more before I go to bed and as usually I want to sew just a little bit but actually it gets way past over midnight… not an exception. I am ending the day where it has started because Mummys sew when their kids are sleeping, am I right? All around the world :-)
I send you hugs from my sewing atelier to yours. Stay sew-focused and have a great week. I see you in my next post. Bye!!
Material Notes
Stretchjersey
Difficulty
Intermediate
Categories
1 Reply

May 12, 2016, 08.03 AMby rita61

1 Reply

1 Reply

May 11, 2016, 02.46 PMby kisses

1 Reply

1 Reply

1 Reply

May 11, 2016, 11.25 AMby Beccki

1 Reply

1 Reply