Cinderella and the thin line
Added Aug 17, 2012
by laracrj
Cardiff, United ...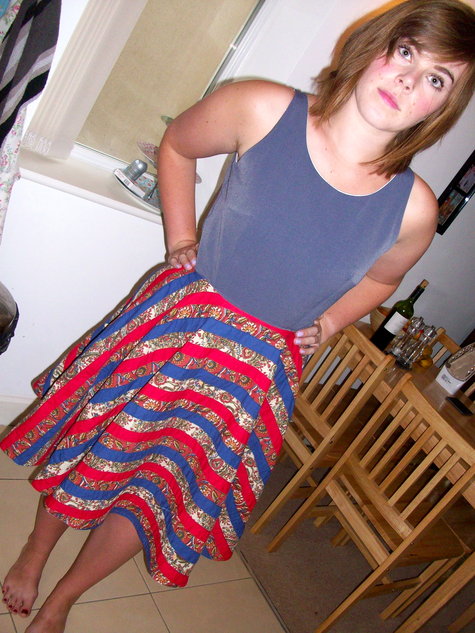 ShareThis
Description
Ok first of all I'll explain the name…I always feel silly and a bit pompous coming up with names for my dresses. I think it's because I want to think of interesting names, but at the end of the day – I'm naming dresses!! So this dress gets it's name as it a) reminds me of the rag dress Cinderella wears – also explains why the photos are in the kitchen! and b) apparently there's a thin line between loving a project and being really unsure about it and I'm not sure what side of that line I fall on.
LOVE:
The skirt fabric – I bought it ages ago – it was one of those fabrics that I looked at every time I went to the fabric shop, but it was too expensive and I didn't know what I'd make with it. Luckily it came on sale so I bought it knowing that I'd find someway to use it one day. I love the fact that it's almost patchwork with all the different stripes sewn together.
The little heart buttons – very cheap off ebay and I've been waiting to use them for a while.
The full circle skirt – although this did cause some problems as my fabric wasn't wide enough. But I like the way the stripes change direction.
NOT SO SURE ABOUT:
The back of the dress – the back of the bodice is slightly longer than the front, which I think makes the zip pucker a bit.
The overall look – I really do think I look like raggy Cinderella in it and I'm not sure where I'll wear it to. I thought it would be better to use the fabric for just the skirt rather than it being a bit overpowering as a whole dress, but now I'm just not sure either way.
But oh well – I thought I'd share it anyway and see if anyone here can persuade me one way or another on it. It's a completely self-drafted pattern, next time I might lower the neckline an inch and shorten the bodice. The fabric for the bodice isn't as shiny as it looks in the photos, it's a kind of dark blue/ grey and has a slight stretch – I bought about 4m of it (double folded) so I thought I'd start chipping away at it).
Material Notes
Cotton strips sewn and overlocked together.
Bodice – some kind of synthetic fabric with a slight stretch
Categories