CIGARETTE PANTS IN BEIGE-RED FOR THIS COMING SPRING
Added Feb 3, 2016
by Mirei71
***, Switzerland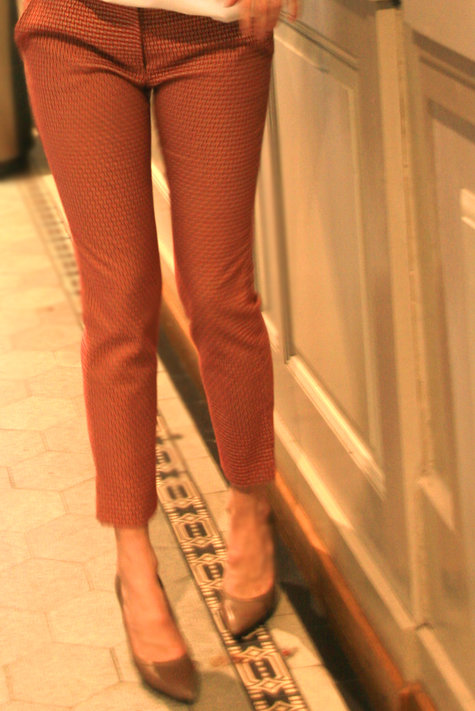 ShareThis
Description
Ok, I am honest, i don't even know if you can call them cigarette pants in English but after some net-research I gave up since there are so many opitions about it. I am talking about a very straight, classy silhouette, rather highwaist, sometimes with pleats. But let's start…
It's a fact: I am already thinking of spring altough we have just plumped from January into February. I'm just not made for winter, I don't like being cold, I long for warm sunbeams warming my skin and superlong summer nights. For me winter could end after Christmas, at least downtown, and while I am writing this I am laying on my couch dealing with some virus? bacteria? I don't know and it is sunday so I cannot visit any doctors. I admit that I am not doing any winter sports, that would surely quite pimp my winter-opinion… but there is also a positive side to that wintery mindset of mine. It's the perfect sewing weather! Like for instance sewing these pair of 50ties style trousers I made. There ain't no other garment then trousers where fitting is so important. That's why I love to sew my own. You can decide upon waisthight, tightness around the leg, length, pockets… just everything basically. You can just go on forming your favourite shape until you are satisfied and that's so much fun to do!
The cigarette cut: we are talking about a pattern which exists since the early 50ties. Sometimes you get it with pleads, sometimes not. It suits rather slimmer figures. Combined with a large top or a blouse you can create a nice summer look. For the photoshoot I decided to wear a large blouse in offwhite and some high heels. But just imagine the pants in navyblue combined with a striped shirt and some navy or white ballerinas! I just love that pattern. It's very feminin and graceful with them tiny slits on the side.
The shooting: since I went for a classy style this time I chose the main railstation in town as our location. Old railstations always give me this nostalgic feelings. The antique buildings combined with these romantic railjourneys of the old days just get me there. So I thought this would be just the perfect place. Once more my lovely daughter was the photographer but as you can see on one pic there was also my little one checking the light and taking some snaps :-)
This post on my blow www.mirei71.ch will not only contain the picture of the photoshoot, but also some images where I got the inspiration from, a "goes also with", and for the first time, tataaa, a short movie on how I made these trousers. so a visit is shure woth it!
Let me know if you like my new creation, if you also love nostalgic, classy styles and if you like my first movie (butterflies in my stomach)! Stay sew focused!(what a wordplay :-)) Big hugs from my sewing room to yours, see you in my next post. BYE!
Material Notes
finest Jacuard
Difficulty
Advanced
Categories
Feb 6, 2016, 04.10 PMby SassyT

Feb 5, 2016, 02.20 PMby kisses

1 Reply

Feb 4, 2016, 09.31 PMby rita61

1 Reply

Feb 4, 2016, 12.29 AMby Bbtiny

3 Replies

Feb 3, 2016, 03.28 PMby 4girls

1 Reply

Feb 3, 2016, 03.18 PMby byVA

1 Reply

1 Reply