Child's Apron & shopping bag
Added Dec 13, 2010
St Arnaud, Austr...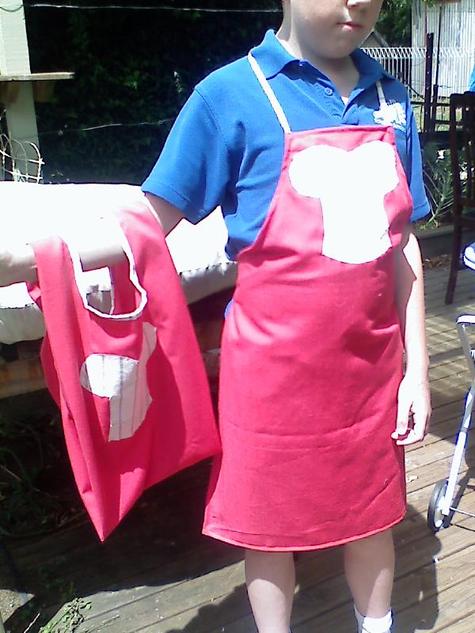 ShareThis
Description
I am not very wealthy at the moment, so I decided to applique some aprons for gifts for family for Christmas. Then my son came home from school with a girl (shock horror) as his Kris Kringle.
So, I found some nice fabric at a local op shop and made her a "one off" appliqed apron with matching shopping bag.
Not sure if the rest of the world has been watching Junior master Chef, but it was HUGE here in Australia, encouraging many primary school children to have a go at cooking, so I have appliqued a chef's hat on the apron and bag.
My major hint to anyone first attempting applique is to use simple shapes, and then to use a child's glue stick (UHU?) to attach the applique to the fabric base. It then needs no pins or basting to stay in place, and the glue easily washes out.
My son is the model (no face allowed) not impressed with modelling a PINK apron ;)
Material Notes
Both the applique and the main fabrics are cotton. I always prewash, tumbledry and iron to minimize the chance of unequal shrinking.
I always use polyester thread for the stitching (for some reason, my machine likes it better than cotton)
Difficulty
Novice
Categories
0 Comments