Cheongsam Dress 02/2012
Added Mar 2, 2012
Munich, Germany

Step 1 Preparations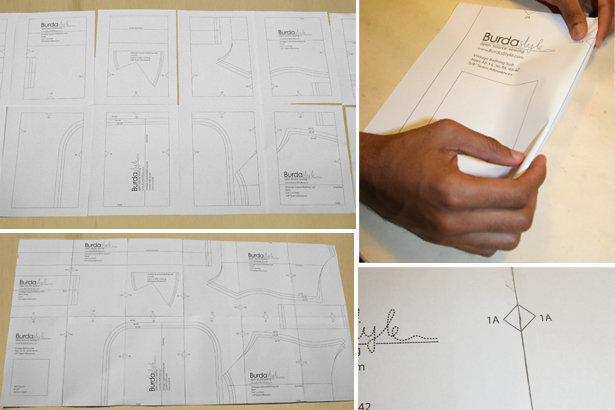 Paper cut for ANSI A (German DIN A4) prints:
This pattern is printed on 8.5″ × 11″ sheets of plain paper. Do not scale or center pages before printing. Wait until all sheets are printed out before beginning to tape them together. Do not cut out pattern pieces yet— Arrange the sheets on a large, hard, flat surface so that they fit together, matching up like numbers and letters (i.e. 6A to 6A). To tape pattern together, fold under the margin of one piece (6A) and tape right against the line of it's matching number/letter (6A).
Trace the pattern pieces from the pattern sheet. Tape piece 4 and 4a together along the joining lines. Trace the inside band pieces from piece 4 (upper piece above marked upper line, lower piece below marked lower line). Trace piece 3 twice from the pattern sheet, noting the different lines for the right and left pieces.
The placement line on piece 2 is mark ed on the pattern for size 36. For the other sizes, remark the line at the same width.
burda style magazine pattern do not have seam allowance included.
Seam and hem allowances to be added: Centre back seam, side seams and shoulder seams 1.5 cm (5/8 in). All remaining seams 1 cm (3/8 in).
0 Comments on Step 1
Patterns for this Project