Chair Slipcover
Added Nov 15, 2010
by madebymeg
San Francisco Ba...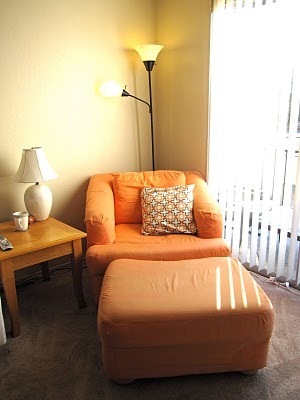 ShareThis
Description
Check it out at: MadeByMeg
At some point, one moves into an apartment. And aside from needing a place to put the sewing machine and an entire bookshelf for the yarn, an apartment must be furnished with all the usual things: a sofa, a table or two, some chairs. And so I spent the summer garage sale-ing. More than just visiting a few street-side sales, we would wake up at eight in the morning, grab the Craig's list garage sale map we had stayed up making the night before, and hit the town with our oversized Ford Explorer. That said, most of the things in my living and dining room were free. The sofa I had bought off of Craig's list two years ago for $25, the tables, tv and various other odds and ends were leftovers from various people in my life, and the oversized chair and dining room table I scored for free from people who no longer wanted them.
But having collected an odd assortment of other people's leftovers, I needed to make them work together. Luckily, garage sales are full of Ikea things, typically bought at 90% off of the retail price, and so those fit together nicely. For the couch and chairs, I just had to wash the covers in OxyClean and give them a few whirls in the washing machine. Lamps were cleaned and tables arranged.
The sewing feat, however, involved the oversized chair, which I found at a garage sale where it was being offered up for free to the first person to give it a good home. The woman had been quite attached to it (as many people are to their things at garage sales) and said it had taken her through some tough times. That said, the chair looked like it had seen some rough times of its own, and so I decided to cover the tattered flower print with a bright new cover. It was made by loosely following the directions from McCall's "Cover Essentials" Slipcover Pattern and 8 yards (although 9 probably would have been better) of discount fabric (at $3/yard!). I then made some matching pillowcases (for garage sale pillows) out of a slightly more expensive fabric.
Difficulty
Intermediate
Categories
Credits
McCall's
0 Comments