Cargo Shorts and pyjama bottoms for my husband
Added Jul 21, 2013
by rita61
Chemainus, Canada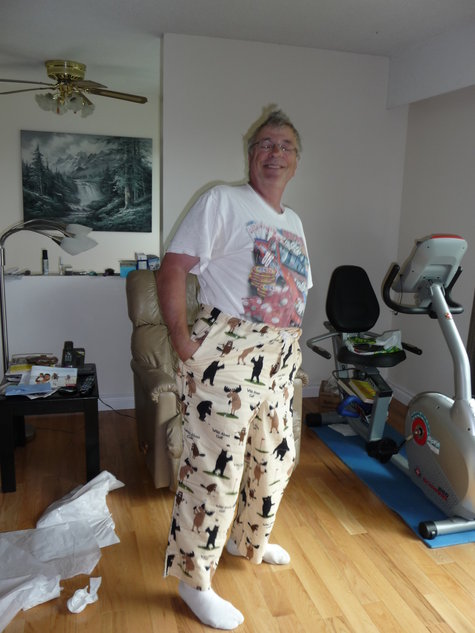 ShareThis
Description
When my husband took me to the fabric store one day to browse only (ya, right!), he was looking in pattern books. He commented that there are not many patterns for men. The next morning, he was in his chair with a worn out pair of his favourite shorts which are no longer available, and a seam ripper. He said he was taking them apart so that I could draw the pattern and make him shorts. (He is awesome with a seam ripper when I need something ripped out).
These shorts have pleated pockets, pocket flaps, front fly zipper, two styles of belt loops, side elasticized waistband, and lots of double top-stitching. The pleated pockets are a feature he really likes, as he carries a lot in his pockets, as you can see in the pictures. I was very pleased when he wore them the morning they were finished to his chiropractor appointment. Also the chiropractor commented that he liked them, and wanted to know where he got them.:-)
This was a great project for me, as it helped to build up/recover some of my concentration levels and regain some endurance. I've been afraid to restart projects of this type, but I would say I'm ready for them again. :-}}} Which is good, as his Jean jacket is wearing out, and I'm lacking for clothes that fit.
The blue plaid pyjama bottoms were supposed to be for Christmas, but I gave them to him on 'Father's Day'; pretended it was 'husband's day'! The golfing pyjamas were for his birthday; I managed to make them without him finding out. It was great that he went off golfing for a couple of hours a few days a week!
The bottoms have in-seam side pockets, front fly with button, and elastic waist with drawstring. The pattern, which I have used numerous times, was purchased unused in 2009 at our local Thrift Shop for $0.25; it is Butterick 5286 from 1997.
Have a great day!
Material Notes
I had the material in my stash, and it cost me $3.94 for two meters. It is twill of some sort, which was wonderful to work with for making cargo shorts, very forgiving with the iron. It did fray easily though.
Difficulty
Intermediate
Categories