Cap, Newsboy, Mk. II
Added Feb 20, 2011
by lclausewitz
Bandung, Indonesia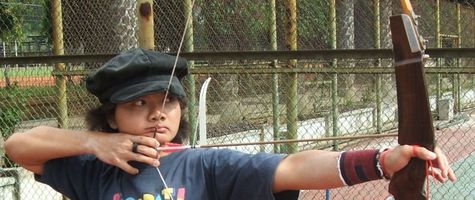 ShareThis
Description
As I've said somewhere else , I ended up developing my own larger, fuller crown pattern for newsboy caps, and now I have pictures of the results in an actual working fabric (rather than a mere muslin). I was wearing it in archery practice, and in the process I noticed the benefits of interfacing the peak with self fabric rather than plastic, fusibles, or some other stiffer form of interfacing: the thing squishes up nicely under the string and doesn't interfere with the shot at all. (It helps that the material is thick cotton corduroy that's just stiff enough to maintain the shape but soft enough to collapse under the pressure of a bowstring.) So maybe, in addition to other names like "newsboy cap," "driving cap," or "Gatsby cap," this particular version could also be called the "archery cap."
The poor thing looks a bit battered in the side view since by then I had worn it through a whole day's worth of shooting, not to mention that it had also been on my head for a week of rather less vigorous activities. Fortunately, with a fully washable cotton material, I could just chuck this into the washing machine with the rest of the laundry and then treat it with some pressing at a moderate heat to restore its shape for the next week's adventures.
In the top view you can see how easily the cap gets squashed flat when there's no head inside, so I can fold it to quite a compact shape and stuff it into some pocket somewhere when I'm not wearing it. I don't do that very often but the possibility is quite handy for situations where wearing a cap isn't particularly appropriate.
Unlike the cap that started it all , this one isn't lined with parts of an old T-shirt. In fact, it's not lined at all, so you can see how I've turned the seam allowances inwards and overcast them from the outside for a fray-resistant finish. A small circular piece is added at the centre of the crown to cover the raw edges at the tops of the individual pattern pieces and the bottom of the covered button. It may not be as neat as a machine finish, but it works and isn't particularly visible from the outside.
(Yes, it's completely hand-sewn as usual, in case you're wondering. And there are somewhat bigger pictures—especially of the front and side views—on my journal )
Material Notes
This one is in cotton corduroy, but it'd work just as well in tweed or some other fabric with enough body.
Difficulty
Intermediate
Categories
0 Comments