Camel Hair Duffle Coat
Added Oct 10, 2011
by juebejue
San Jose, Califo...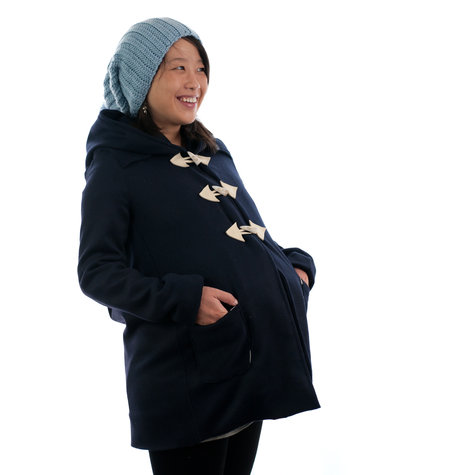 ShareThis
Description
I based the pattern off burda magazine 02/2010/coat126, as it is a coat without any darts or curves. All I needed to do is do some alteration to the back piece and add the hoodie + flaps . I cut the back piece into two horizontally. Added about 10 inches vertically to the lower half, folded that accordingly to attach to the top half. Then add the back flap and tada! you get the same back design as the ASOS coat. The only difficulty was that the shoulder seam area became very thick and hard to sew, as each flap is two shell material sewing together. That plus the base shell, means there's tons of layers of fabric at some points. Luckily the camel hair fabric is relatively thin and pliable. But next time when I sew with flaps using coating material, I would sew the flaps in a layer of shell material and a layer of lining material instead.
The shoulder seam seems a little awkward in the back, it almost feels like i should get rid of some more materials on the back of the neck so that shoulder seam would sit more in the front. What do you think?
Of course, it wont be a juebejue coat production if it didnt come with cute buttons, funky lining, and a big hoodie. I re-used the hoodie I used in my other awesome coat, polyester lining from hancock, fake leather for free from fabmo (I got some real leather scrapes from there too, but they were not white and I wanted white), and white toggle button from my stash. The roomie pocket is really useful for storing my cell phone, keys, and wallet as well.
Once the baby bump is gone and I know how it will drape on my body better, I will sew the two stitches on the back panel, iron it into shape, and probably neaten the bottom seam of the coat a bit more. I could try to do this on the dress form, but its a little annoying as the dress form's "skin" isn't smooth, so the fabric still sits on there slightly differently. For now, I am happy with it!
Material Notes
camel hair from fabric mart, polyester lining
Difficulty
Intermediate
Categories