Button Up Shirt - Test Version
Added Apr 21, 2012
by ThreadTheory
Victoria, Canada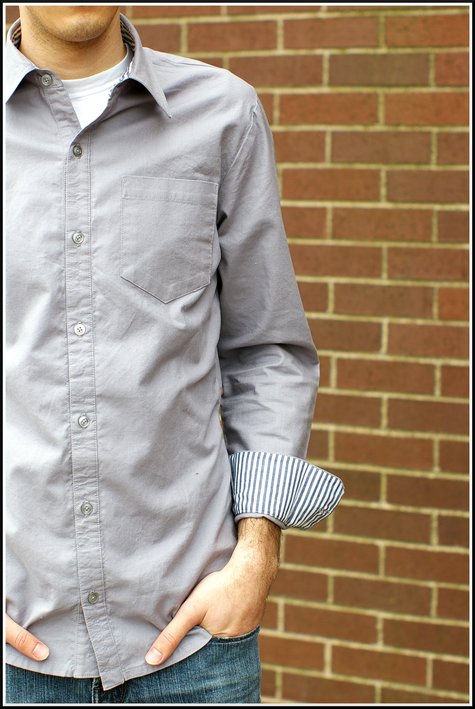 ShareThis
Description
This is the salvaged result of a misguided attempt to teach my husband to sew two years ago! In the end, he settled on a nice obi apron for his mom and this wrinkled cotton got consigned to my UFO pile half cut out. It even got carted across Canada from coast to coast before it was touched again! I used Mcall's M6044 and sewed it up in size small as is (except for bringing in the side seams slightly) as a test run before getting fabric better suited for shirts. Matt loves his new shirt and even though the sleeves are too short for him (the usual fit problem for him) he's very pleased with the fit of the neck and across the shoulders. We are pretty thrilled with the slim cut of it as well because most RTW shirts are like tents on him if they even come close to fitting his broad shoulders.
I really liked the simplicity of this view of the pattern as there is no back 'panel' (not sure what this part is called) at the top of the shoulders and the pocket is simple as well. It gives the shirt a very casual look – something that was lacking in Matt's wardrobe. The only thing I dislike about the pattern is the cuffs – I'm not sure what other patterns call for but in this one it seemed a little bit strange and somehow 'make do' to simply sew up from the cuff to where the seam of the sleeve begins to form a triangle of stitching instead of having some sort of placket that could be done up with another button. Matt likes this casual look and it is good for a light-weight summer shirt as this method doesn't add bulk on the sleeves, but I don't think it looks very professional. Sorry I don't have any pictures of this part (or the terminology!) to show what I'm talking about.
Stay tuned for many more button-up shirts. I was surprised how much I enjoyed sewing for someone else – especially when the model is always right there and ready for another fitting! I had a great time doing all the top stitching and I found I really enjoy sewing men's garments as incredibly subtle changes or details make a really large impact on the finished item and its so fun imagining all the fabric combinations I can use on Matt's shirts in the future. Plus – he wore his new shirt as a good luck charm for his first final exam of the semester – it made me so proud to see someone (other than me) choosing to wear something I'd sewn in public!
Read more and see more images on my blog: ThreadTheory
Material Notes
Very cheap quilting cotton (not the best choice as it wrinkles horribly and doesn't even look crisp when carefully ironed). Striped scraps from a thrifted shirt. Nine buttons (1/2" I believe).
Difficulty
Intermediate
Categories
2 Replies

2 Replies

1 Reply