Bustle Skirt Version 1
Added Apr 20, 2010
County Durham, O...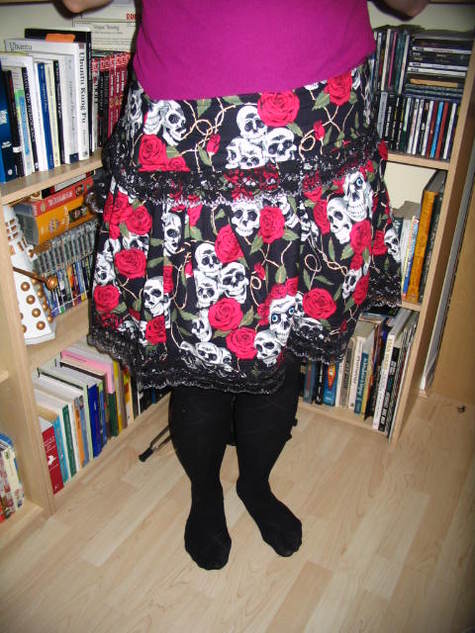 ShareThis
Description
This is the first wearable grament I've made from scratch, there are several issues with it which I have evaluated and hope to fix in version 2:
(1) epic bum fail lol, obviously the intention was for this skirt to go up at the frnt and down at the back, but due to bummage its the opposite, lol, must compensate for bum in future ;-)
(2) waistaband, essentally was a rectangle, people aren't rectangles, I attempted ot fix this by putting in a dart at the side, but this just accentuated the bum fail, gave me a really lopsided waistband badness badness.
(3) general shape, its clear from the pictures I was afraid to make commitment and decisions when deciding mesurements, it's too big all over because I was petrified of making it too small.
(4) bustle malfunction: I managed to fail to catch all bustles when stitching the waistband this led to a hasty patch up job and uneven bustles
plusses? that material is AWESOME… I also learned a lot which was put into practice in me next project which is much more acceptable.
I followed the tutorial here: http://www.cutoutandkeep.net/projects/burlesque_bustle_skirt
I'm going to unpick it all so I can use the material for other smaller bits, and make a new onw armed with what I know now :-)
Material Notes
micheal miller?
Difficulty
Novice
Categories