Burdastyle short sleeve blouse
Added Aug 10, 2016
by Johanna Lu
Göteborg, Sweden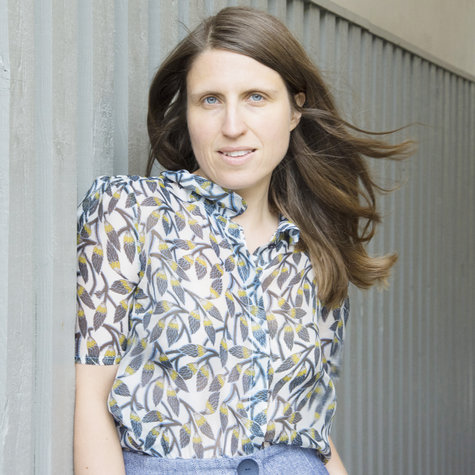 ShareThis
Description
This blouse has a Peter pan collar, a hidden closure, a back yoke and pleat in the back.
The design is super cute and perfect for a summer blouse. It runs a bit big, so I went down a size to 36 instead of my normal 38.
Design alterations I did: I omitted the side slits and shortened it a bit. Also I lined the entire back yoke to hide the collar insertion and only used the bias tape application in the front since getting a bias band to stitch well on sheer slippery fabrics is hard.
Cut a separate smaller under collar pattern piece. That's how the professionals does it and it will prevent the undercollar from peaking through.
My tutorial on how to draft a separate undercollar
Some notes on sewing with silk sheer
Silk sheer can be hard to cut and sew, which makes this pattern more difficult to make if you use these kind of fabrics.
Here are some tips and tricks
Cutting: Use cardboard or fabric underneath the fabric to keep the pattern pieces from slipping (I didn't and had some real issues getting the fabric pieces cut even). Also secure the pattern pieces to the fabric properly.
Interfacing sheers
Only use silk organza and not fusibles. You will need some stabilization in the placket and collar.
Sewing darts in sheer fabrics.
I used the bobbin stitch/continues thread dart technique which means that you won't have any bulky ends at the tip of the dart.
Great video tutorial on the bobbin stitch
Sewing seams in sheer fabrics:
I used french seams since the fabric is see-through
My method for french seams the quick and lazy way
For the hem, you need to fold it twice before you topstitch, but since sheer fabrics doesn't press well, you need to sew a row of stitches at the pressing line.
The method is explained well in this tutorial.
Rolled hem on slippery fabrics
Another hemming tip is to let the blouse hang a while before you hem it as silk sheers have tendency to keep shaping itself even after cutting. That way you can prevent an uneven hem.
As for the fit of the blouse I did find that it tug a bit in the back when I move my arms forward towards the chest (like a hug). This doesn't have to be a pattern issue. It could also be due to a rather rigid silk fabric, or that that using french seams in the sleeves restrained the movement. Or because I had some issues during the construction process.
All in all I like the blouse, but it was hard work with the silk sheer and the finishing is not as good as I want it to be. Next time I'll probably pick some nice rayon fabric instead!
Material Notes
Silk/cotton chiffong
Difficulty
Advanced
Categories