BurdaStyle Sewing Vintage Modern Contest 2013 – 20s Style F...
Added Feb 14, 2013
by darkhorse
Vancouver, Canada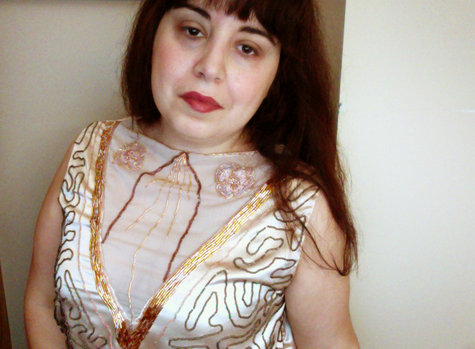 ShareThis
Description
BurdaStyle Sewing Vintage Modern Contest 2013 –
20s Style Flapper Dress- 'Louisa Dress' Pattern Variation
I was inspired by BurdaStyle's Vintage Modern book to participate in the 2013 contest. I love 1920s vintage style and selected the 'Louisa' dress to create a one-of-a-kind variation (option 3) for a luxurious beaded flapper dress.
Several changes were made to the original pattern, including changing the original neckline shape to include a sheer V-neck, pattern grading, and merging pattern pieces. The base fabric is a crepe-backed satin in champagne blush, and accompanied with chiffon of the same shade to create the deep 'V' front. The ruffles in the original pattern were changed to a scalloped hemline. The dress is entirely hand sewn, featuring French seams and hand stitched curved rolled hems. The dress pattern has been hand graded up two sizes to size 50 from its maximum size 46 provided by BurdaStyle in the original pattern. I merged the original separate pieces for the body and bottom portion of the dress into a single pattern piece to accommodate the new bottom hemline.
I created a sketch to design my original beaded pattern after researching vintage 1920s beaded dresses. I hand stitched each bead onto the satin and chiffon fabrics to embellish the dress. Silver and gold Delica bugle beads outline the plunging neckline. The beading, using Delica and other glass beads, is Art Deco inspired, with graphic, sometimes sinuous lines. Further embellishment and softness is created with the beaded roses along the neckline and body of the dress. All of the beading has been backstitched for extra security.
The dress picks up several 2013 trends: 1920s glam and vintage style, spring nude colour tone, faux harnesses, metallic detailing and sheer cut-outs.
I am a self-taught sewist. I was very excited to learn about couture finishing and beading for the first time for this project and contest, helped along by the Vintage Modern book and BurdaStyle tutorials.
Material Notes
Satin, chiffon, glass and delica beads
Difficulty
Advanced
Related Techniques
Categories