Burdastyle cigarette pants
Added Feb 27, 2018
by Johanna Lu
Göteborg, Sweden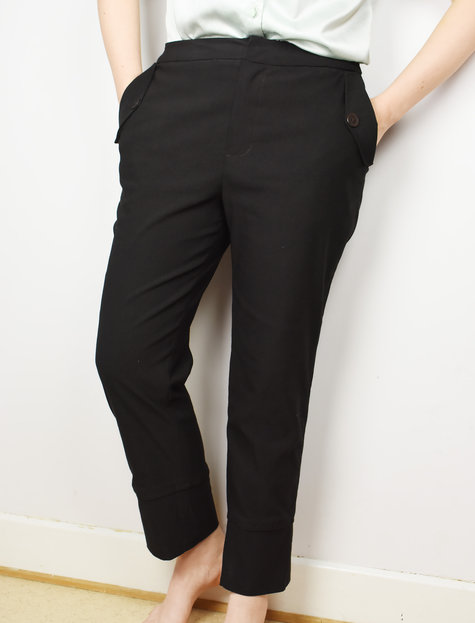 ShareThis
Description
Ankle length and narrow cigarette pants with flap pockets.
Pattern Sizing:
I did a 38 and the trousers are true to size and do fit quite tight, so only use stretch fabrics for this pattern. I did 117B. However on the image for 117a the model is clearly wearing a size too big for her. The fit on 117B is more similar to what the trousers looked on me.
Thoughts on the pattern
I have always dreamt about having a pair of fitted cropped cigarette trousers that look good on my short legs. But neither RTW or my previous me-made attempts has worked out and just made my legs look even shorter and more stocky. But there is something about this draft that just works with my body type.
Plus the details like front and back flap pockets and the cuffs make these trousers more fun than just plain stretch pants.
That said I worked quite a bit on the fitting and made many alterations to make the trouser fit me exactly like I wanted. But the Burdastyle pattern draft is solid.
Methods used
For the faced lined pockets, I used a method that I devised myself:
Tutorial:
How to make lined faced pockets
Pattern alterations I did
- Fisheye dart to remove excess fabric underneath the bum.
- Sway back adjustment
- Changed the crotch shape to make it L-shaped rather then C-curved
- Lengthened the back crotch seam
- Added more width to the side seam around the hips to compensate for what I removed in the back for the swayback adjustment and crotch scoop out.
- Added a little more width in the front for my full tummy
- Made it petite by folding the pattern at to spots (above and under knee)
I highly recommend the book Pants for Real People by Palmer Alto for ideas around altering trouser patterns.
Conclusion: A fantastic pattern if you are looking for slim fit trousers that are fitted but not super tight. Plus the details suchs a the flap pockets and cuffs makes these trousers stand out.
Material Notes
Dark brown stretch bengaline
Difficulty
Intermediate
Categories