burda style magazine 03/2010 Spring Coat
Added May 4, 2010
Munich, Germany

Step 1 Preparation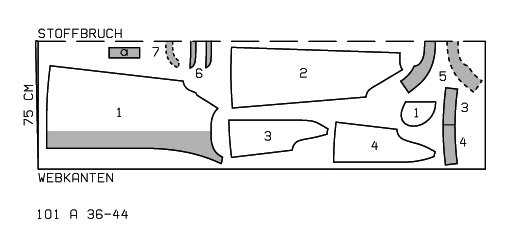 Trace the pattern pieces from the pattern sheet. Note the different hem lines for view B. Trace the pocket piece from piece 1 as a separate pattern piece – it is the same for all sizes. Trace the sleeve facings from pieces 3 and 4 as separate pattern pieces. Glue sleeve facings together (top sleeve seam).
The snap fasteners on piece 1 are marked for size 36. For the other sizes, mark the top fastener the same distance from neck edge as for size 36. The bottom fastener is in the same place for all sizes. The pocket lines on piece 1 are marked in full for size 36 only. Complete the pocket lines for sizes 38 – 44 accordingly.
Seam and hem allowances:
Seams and edges 1.5 cm (5/8 in), hem 4 cm (15/8 ins), lining 1.5 cm (5/8 in).
Patterns for this Project