BurCherry skirt
Added Aug 9, 2010
by saxsilverain
Espoo, Finland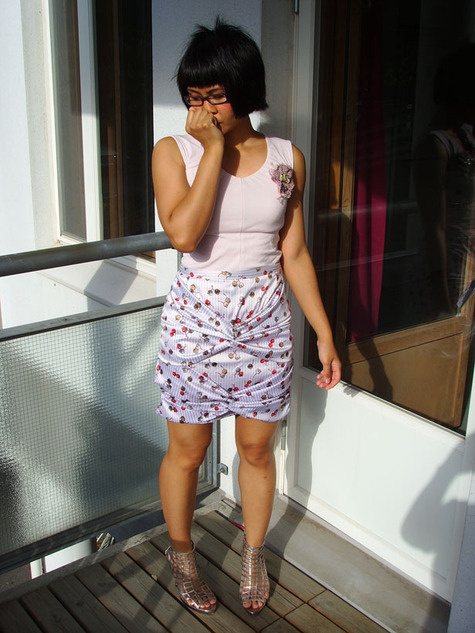 ShareThis
Description
i again stumbled upon a cute fabric at work. this time, it's a stretchy satin fabric, with stripes and, yes, you guessed it, cherries and chocolate pattern!
that was the same spring when Burberry Prorsum's skirt was all the rage. out of luck, i found a tutorial on making that skirt made by SewIThought (see credits for the link!).
so of course i just had to buy that cherry fabric!
and then, a new dread appear: if i want to make a skirt like that using a satin fabric, i'd have to use some kind of closure..and the perfect closure is the one i've always avoided sewing for all my 2 years of sewing life. THE INVISIBLE ZIPPER! (add thunder sounds for horror effect…)
thinking that i would fail on my first attempt, i decided to buy the zipper (and thread, actually) on my trip to Indonesia, since zippers are way cheaper there.
after getting back to Finland, i looked for a simple skirt pattern for the base..and found it: Burda pattern no. 7660.
i made it shorter than what the pattern actually said, and halfway through copying the pattern pieces to the fabric, i just realized that i ran out of interface fabric. so i grabbed the hardest fabric i found in my fabric closet: plain cotton fabric.
everything went smoothly until it's time for me to attach the drapery thing on the front part..and then realizing that i should've done that before i sew the side part (doh!) AND sew the waistband.
lots of stitches later, i was face to face with my biggest fear, THE INVISIBLE ZIPPER!
i opened as much tutorials a human can possibly find on how to sew an invisible zipper, and after taking a few deep breaths and saying the magic word ("here goes everything!"), i finally began it.
and then, before i knew it, i was done sewing it.
HA! i've conquered you, THE INVISIBLE ZIPPER!! not so bad for a first-timer, and i didn't even waste a single zipper! actually i kinda like it, and who knows…i might just do it again in my future sewing projects.
the only minus point from the skirt was actually not caused by the zipper, but it's the drapery. i just couldn't do any better to the sides of the skirt, so in the end the right bottom part is a bit weird. but whatever. it looks more organic that way, if that even makes sense?
Material Notes
around 2m of stretch satin fabric (110cm wide),
15cm of basic cotton fabric (to substitute the interfacing fabric),
an invisible zipper with the length of 20cm
Difficulty
Novice
Related Techniques
Categories
Credits
Sew I Thought

Burda

pattern no. 7660, D skirt