Blue Rayon 1940 Cocktail Dress
Added Dec 15, 2010
by lauramae
Novato, Californ...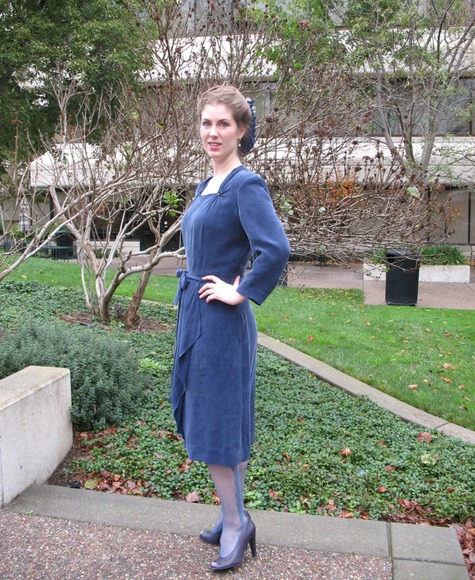 ShareThis
Description
This is a vintage reproduction pattern from the Vintage Pattern Lending Library, #F1449. The patterns are printed on paper, with seam allowances and a few other helpful markings added. So if you fear the unmarked vintage pattern, this is a great opportunity to work with a "vintage" pattern that has everything marked out for you. I especially like that this pattern includes three different views that can create three very different looks.
Because the patterns are printed on paper, instead of tissue, the first thing I always do is trace the pieces out on muslin to get an idea of fit, and to make it easier to cut into my fashion fabric. This time around I used a super drapey rayon, so having a fabric pattern instead of stiff paper was quite helpful. I will also mark up any changes or notes to myself on the muslin pattern and then fold it up to store with the original. When I want to use the pattern again, I simply iron my muslin and start cutting.
Another thing to be aware of is seam allowances. First, being a vintage pattern, the given seam allowance is 1/2" instead of 5/8" – make sure you remember this when you sit down at your machine, I know I had a little mantra that kept running through my head during construction.
Also note that the fabric layout is for a no-nap fabric. I was worried that my sueded rayon had a bit of color change when turned upside-down, so I used a single direction layout, and I used my entire 3 yards of fabric (the suggested amount is 2.75 yards for this view). I also had to cut my belt in two pieces instead of one as the pattern pieces suggest. In other words, I would purchase more fabric than recommended!
I also love the gathered cut-outs that pull in the neckline. However, they are a bit tricky to accomplish – make sure you are using strong thread! The gathers would be especially difficult if you use a heavier weight fabric (this is making me re-think my idea to make a short sleeve version in velvet).
There are quite a few vintage touches in this pattern. Topstitching is suggested for sewing the shoulder seams, and I have never seen a gathered neckline like this in any contemporary pattern. The cascade addition to the skirt front is lovely, but be aware that the wrong side of your fabric may show. I used a hand rolled hem so I can barely tell the right from the wrong side with my rayon.
I will definitely be sewing this one again – with short sleeves, in a patterned fabric, with the added peplum – the possibilities are endless.
I highly recommend this pattern, and I would highly recommend checking out the Vintage Patten Lending Library at http://vpll.org/
Material Notes
Laundered Rayon (purchased at JoAnns – I have never seen anything like this at JoAnns before or since, and I am glad I grabbed the last 3 yards while I had the chance)
Cotton Batting (used for shoulder pads)
Silk Gutterman thread in navy
Rayon Seam Binding in navy from Mattiecakes (http://www.etsy.com/shop/mattiecakes) for finishing all my exposed seams.
Difficulty
Advanced
Categories
Dec 16, 2010, 04.00 AMby prisbw