Blue circle-skirt
Added Dec 14, 2011
by LéonaDy
Gatineau, Canada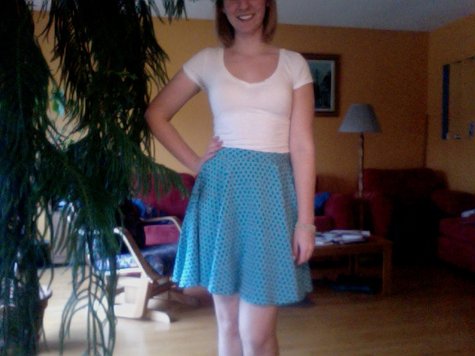 ShareThis
Description
I made this skirt quite some time ago (this summer) and I learned a lot from it. 1- circle skirts take up a lot of fabric. 2- because they are made of a lot of fabric, a gush of wind can make them rise up.. very high. 3- Certain fabrics, such as this light blue one, do not let air circulate very well between the fibres.
Combine this knowledge and you will learn that : a fabric that does not breathe should NOT be used to make a circle skirt because any insignificant amount of air bubbles up underneath, causing it to rise up uncontrollably. You will find yourself in the embarrassing situation of frantically trying to pin down this impressive amount of fabric that is flying all over the place and successfully revealing your, hum, assets to the general public. Thankfully, the people at the bus stop were politely looking straight ahead like they didn't notice my predicament (however, I can see you taxi driver staring at me!). Ah, fun times..
Nevertheless, I love the way it looks. I'm still trying to figure out a way to wear it. Suggestions welcome..
I will definitely be making more circle skirts in the future, but I will choose my fabric carefully.
Difficulty
Novice
Categories