Black Slim Jeans
Added Nov 8, 2008
by clintow
Bloomington, Ind...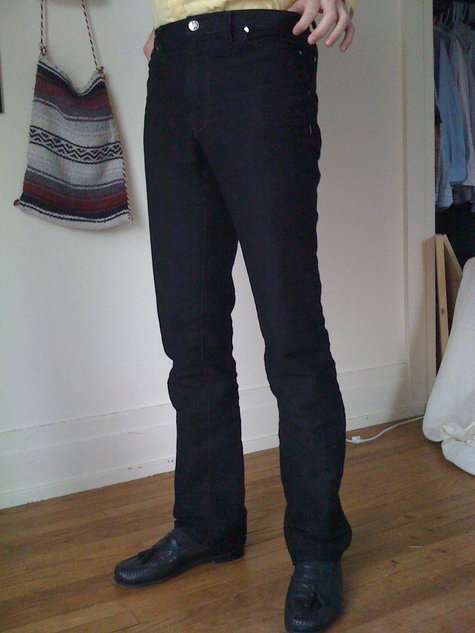 ShareThis
Description
My first from-scratch project!
These jeans have a bit of a story . . .
In the summer I'd begun to alter my own clothes and had been for some time planning on making something start-to-finish. I was planning on a shirt, but I never seemed to find the impetus. In the fall, though, I was given impetus to make something else!
Every October, our orchestra puts on a concert of contemporary music for orchestra, in conjunction with the larger New Music and Art Festival. This year, our director decided to do something a little more "contemporary" with our dress. Instead of the traditional tuxedo, she wanted us to wear "black with a red accent." The part that really perked up my ears was the line "jeans are okay." The chance to wear jeans onstage for an orchestra concert? Not to be missed!!
I considered buying a pair, but when I saw the prices Gap et al wanted for poorly fitted, over designed jeans, the prospect of making my own seemed more and more attractive. After some concerted searching (black denim that's actually black and not greyish is rather difficult to find, apparently) I finally settled on a fabric, along with the "Anita" pattern, which I altered significantly. The concert, however, came up very quickly, and I ended up making them in one night. I actually put in the button hole a half an hour before call time and left off the belt loops for that concert! The "finished product" in the photos is after the addition of belt loops and some alterations to the fit.
Now, to the jeans themselves. I made quite a few changes, and I'd like to outline them here, in case anyone is curious . . .

- Several of the comments had mentioned them being a little too low rise, and I though, if they're too low rise for ladies, then they're almost certainly too low rise for me! So I took some measurements from a pair of jeans that I like and ended up adding about an inch of rise. This meant, however, that I had to take an incredible amount of fabric out of the waist, at least an inch and a half, if not more.
- I added about an inch to the leg opening, because I wanted more of a slim-straight leg effect than a tapered, skinny leg.
- The pockets, of course, had to go! I copied the pockets from the aforementioned pair of jeans, and I'm pretty happy with how they turned out.
- I thought men's jeans without a flat-felled center-back seam or topstitching around the pocket openings would look a little silly, so I added all those details.
- I didn't flat-fell the outside leg seam, as per the instructions. Instead, I went for a little more streamlined look, with just a single line of edgestitching on the inside seam, and no visible stitching on the outside seam.
- Before finishing the center back seam, I kind of threw out the instructions. :P They called for a four-piece waistband that would be sewn up with the center back. A four piece waistband on a pair of jeans? Heresy!! Never!! I made my own waistband, in one piece. (more on that later)
- I also ignored the zipper instructions. I had no idea what they were getting at, so I just copied, again, from the pair of jeans that I liked. I think my system worked better anyway.
- When I got to the waistband, I wanted to add in this absolutely stunning brocade I found on sale as a liner. That didn't work out, though, because the jeans were 1% stretch (unfortunately - I searched high and low for non-stretch black denim!!) and the brocade was 110% non-stretch. So, when I tried to sew on my beautiful waistband, things would be peachy about half way around, then suddenly I would start to end up with way way way too much jean fabric, and it would pull in very unhappy ways as it struggled with the brocade on the other side. sigh Well, I was on a tight schedule, so I didn't have time to figure out a way to make it happen, so I acquiesced and made my waistband from a piece of denim instead. :(
- Finally, I added rivets, because I found some and thought they would look too much like pants without rivets.
Sorry for the novel here! I hope someone finds this informative, should they attempt this pattern as well.
PS: The shirt in the first several photos is one of my alteration projects. The last photo is me before the concert wearing the jeans (sans belt loops!) and a red bow tie that I also made for that concert!
Material Notes
black stretch denim, not-heavy-enough dark gray thread, jeans button, rivets
Difficulty
Novice
Categories
Feb 28, 2009, 07.04 PMby hamble