bittersweet cardigan
Added Mar 17, 2008
Virginia, Virgin...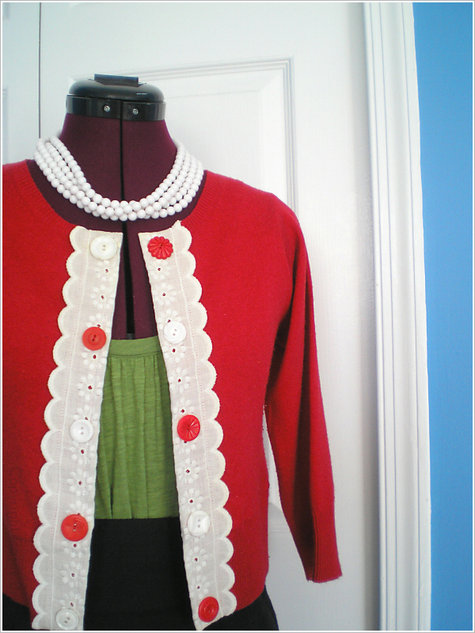 ShareThis
Description
This is a refashion I did, that started out life as a drab, unfitted, and rather plain cardigan I thrifted. (Somewhat like the last photo, although this is a different sweater. I forgot to take a "before" shot! Ack!!) I picked it up at one of the local thrift shop's dollar days, and since it was a lovely silk/cashmere blend, I thought it would be worth refashioning into something a little more… me!!
I used The Yestermorrow Clothes Book as a reference point for starting the refashion. It details how to take apart a sweater, adjust the fit, and put it back together again! I figured out how much I wanted to take the sides in ('cause the fit was too boxy for me), cut the side seams apart, removed the bottom ribbing band, cut the sleeves off, and shortened the body of the cardigan by about 4".
Despite the fact that it is a sweater knit, it wasn't really that hard to sew the pieces! I just used a very narrow zig-zag (almost a straight stitch… but not quite) on all the seams, trimmed them down and then did a larger zig-zag over the edges. The sleeves I shortened by cutting off the original sleeve cap, and cutting a new one (I was bad… I just eyeballed it, although the book does recommend using a pattern!), and then reattaching to the new armhole (which I narrowed at the shoulder seam).
The reconstruction work was a breeze; deciding on trim and buttons was the hard part! hehe! I hunted through my stash of vintage textiles and pulled out two sleeves I had chopped off an old, eyelet adn lace dress. I knew the salvaged eyelet would come in handy one day!! I just enclosed the front edges with the eyelet, topstitching everything down. The buttons were just from my stash; and I decided to go with the white and red because I didn't have enough red buttons of the right size.
So… I have a very cute (in my opinion! lol!) cardigan for only nickels and dimes, as my dad would say! Hurrah!!
Material Notes
thrifted cardigan
vintage eyelet (salvaged)
vintage buttons
Difficulty
Novice
Categories
Credits
"The Yestermorrow Clothes Book"
Mar 17, 2008, 02.17 PMby akwa