Binoculars Case to Handbag
Added Feb 3, 2012
by froggypondd
Hamilton, New Ze...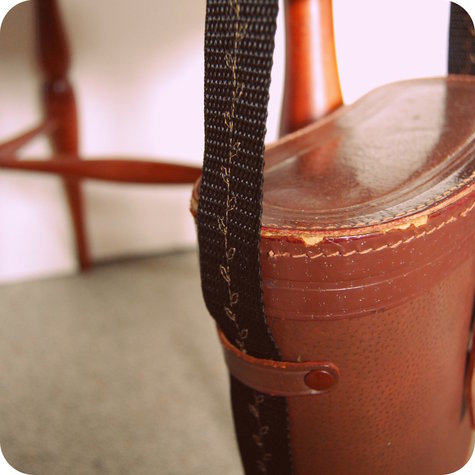 ShareThis
Description
I bought a binoculars case from an op shop back in the middle of last year, with the initial purpose of putting my camera in it. Alas, my camera did not fit (it's a large DLSR) and so it became simply a handbag for my everyday stuff (you'd be surprised by how much stuff I managed to fit in there) as it was waterproof and meant my stuff wouldn't get crushed or knocked around.
Recently, however, the thin leather strap which came with was wearing out and had been snapping. Despite attempting to fix it by tying knots in it and stapling it back together (which looked pretty awful), I resigned myself to the fact I would simply have to get a new strap. I had the options of: finding a long belt at an op shop, going to an upholster/horse supplies shop/shoe repairer and getting some new leather or making a strap myself from fabric
I spent probably a total of NZ$8 on the bag in the first place (US$6.60) and was definitely not willing to spend more on the strap than I did on the bag in the first place. So I went into the local haberdashery, bought 2 meters of black webbing (which cost me NZ$2.20/USD$1.80) and took it home to decide how I would make it work with my brown leather case.
I decided that I would need to add something to the webbing since it looked a bit out of place just on its own, so I used my mum's sewing machine to embroider a series of leaves going along the entire strap. It took about half an hour and I just had to sit there and feed it through but I really like the end product. I then found a clip in our sewing supplies and melted the ends of the webbing to stop them fraying and fed the strap through the leather holders on the side of the bag.
Material Notes
2 meters of webbing (which turned out to be more than enough for the strap, a practice piece and some spare)
I had to use a size 100/16 needle because the webbing was so thick, but it went through fine once I changed it.
Difficulty
Novice
Categories