BETTY DRAPER CALLING!
Added Jun 14, 2013
by cris orange
Vienna, Austria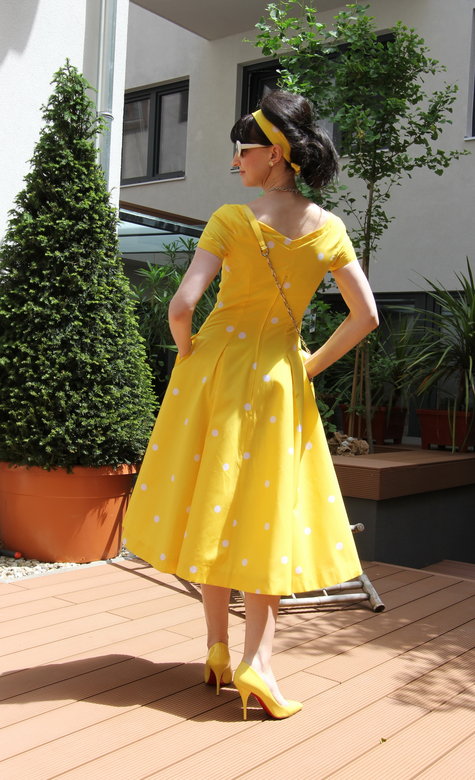 ShareThis
Description
I still had so much of that yellow flamenco fabric with white polka dots and I wanted "get rid" of it: a petticoat style dress seemed appropriate for me because it needs 4-6m of fabric! I decided for the "Vogue Pattern V2903":http://voguepatterns.mccall.com/v2903-products-4894.php?page_id=850 – this is an original pattern from 1957. I liked this pattern because it hasn´t a waist seam, and I wanted to know how to construct this kind of dresses.
The whole dress has a fusible interface, a strong one, to make the dress stiff.
Sewing on this dress didn´t make much problems, fitting was ok from the beginning, I just had to adjust a little bit but not so much as earlier… slowly I develop a feeling for the Vogue sizes…
I fully lined the dress with a wonderful cotton batist, on which edge I stiched a ruffle tape (also from my flamenco pool), from which I have some kilometers :-) On the inside of the dress hem I stiched a lovely lace… and I also made a hair ribbon from the dress fabric.
The dress has an interesting construction, the sleeves are stitched at the yoke, which is connected to the facing of the neckline.
The zipper stops underneath the back neckline, this makes it difficult to put on or out the dress. Anyway, I made the zipper ca. 10cm longer, now is a little bit easier.
But I hardly can raise my arms up to the horizontal…
As a compensation to this constraint of my free moving space, I unconditionally wanted to have pockets in my dress! I feel, this makes the dress more modern and… how cool is this!!! Especially because in the 50-60s it was absolutely frwned upon for a lady to put their hands in the pockets 
Initially I also wanted to make a petticoat for this dress, but now, after 2 weeks of work, I just want to begin another project… but some day I surely make this petticoat!
For the photoshooting I tried to dress my hair in Betty Draper style – well, I am a HUUUUGE FAN of MAD MAN! Sadly I am extremely untalented in dressing my hair, so this is the best result I could achieve after 2 hours of teasing…
At the end… I didn´t reach my goal: I still have 5m of this fabric!
Material Notes
Cotton Blend
Difficulty
Advanced
Categories
Season

For

Garment Type

Style

Material
Credits
May 11, 2018, 02.54 PMby Sidera

1 Reply

1 Reply

1 Reply

1 Reply

1 Reply

Jun 15, 2013, 05.35 PMby bjr99

1 Reply

1 Reply

Jun 14, 2013, 10.21 PMby rita61

1 Reply

1 Reply

Jun 14, 2013, 07.27 PMby camis

1 Reply

1 Reply

1 Reply

Jun 14, 2013, 05.14 PMby BeeZee

1 Reply

Jun 14, 2013, 04.40 PMby kisses

1 Reply

1 Reply

1 Reply

2 Replies