Best Friends Wedding Dress - It's done!!!
Added Aug 17, 2012
by ealinglou
Manchester, Unit...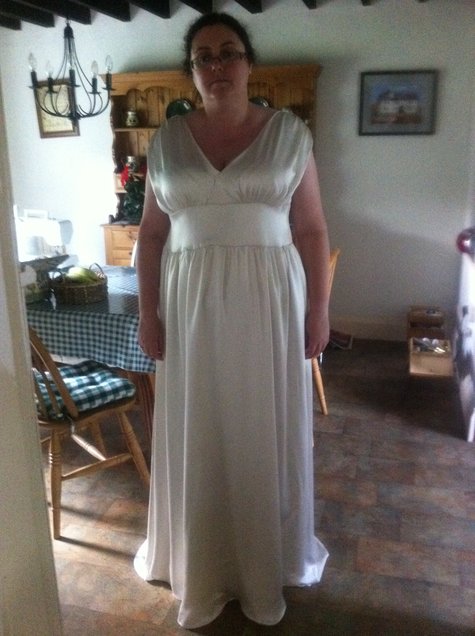 ShareThis
Description
This is the toughest thing I have ever made, (though I like to think it looks simple and effortless).
I guess doing a wedding dress always will be and at least now I can safely say it's a challenge I can tick off the list.
I have really sweated tears over this dress, though I havent always wanted to admit to that, and it's now in the final stages of being tidied up ahead of the big day. I am just hemming the interior seams and the bride herself is making some beaded eppaulettes.
Officially this wedding isnt taking place – ( dont ask) so no Facebook pics etc – but I would like to be able to share the fruits of my labour with fellow dress makers, at least.
I offered to do it as my friend was on a tight budget and had a very specific idea of what she wanted
(Pronovias Formosa – but without the two grand price tag) which I was fairly sure I could pull off.
I spent a couple of months looking at high street bridal dresses and you wouldnt believe the crap out there – and the prices are nothing short of hilarious. Also in the UK, bridal stores have to order in Plus Size wedding dresses and charge a premium for them, which can be up to 20% !!
This is a UK size 18 and loosley based on a Simplicity pattern 2692 – view B – but I added the back drape and train. I cant begin to think now of how this thing came together but I started work properly in June ( as I went to Turkey for a ten days and didnt want a last minute rush). I made the constituent parts of the bodice first after two dummy runs of the whole dress in calico. The hardest part has been getting the bust to fit and one side is still gaping a smidgen (cos she is 40DD cup) so I think I am going to have to add a mini dart on the lining. I am still not entirely sure the bodice is the best fit and I wonder if I shouldnt have done a dart from the arm hole down the bustline. You live and learn!
Plus it's just as well there is a drape over the back as the two tucks on the back cummerband arent exactly equal. My mum says no-one will notice half this stuff but it bugs the hell out of me.
The most worrying part was actually adding the side zip at the end, as that was the point at which the whole thing had to "pull together" and it could have very easily gone sideways, so that was scary.
But, bar a few mini jobs, now it's done and the whole thing has come in at under four hundred quid – which is roughly half the cost of the cheapest bridal dress you will get in a UK department store now – and the fabric is sublime.
Alas, no time to do the bridesmaid dresses as well – we had to buy those in. Roll on the big day – and I think I will stick to knitting for the next couple of months!
The fabric was hyper expensive – about eighty pounds a metre -
Material Notes
Silk charmeuse (I think ) from Joel and Son Edgeware Road London (£79 a metre- ouch)
It's alsmost slightly sivery grey in hue – but she has pale skin and black hair – so it looks great on her.
Difficulty
Intermediate
Categories
1 Reply

Aug 18, 2012, 01.20 PMby bjr99

1 Reply