BERNINA Halloween Contest 2011
Added Oct 24, 2011
by miagolare
Toronto, Canada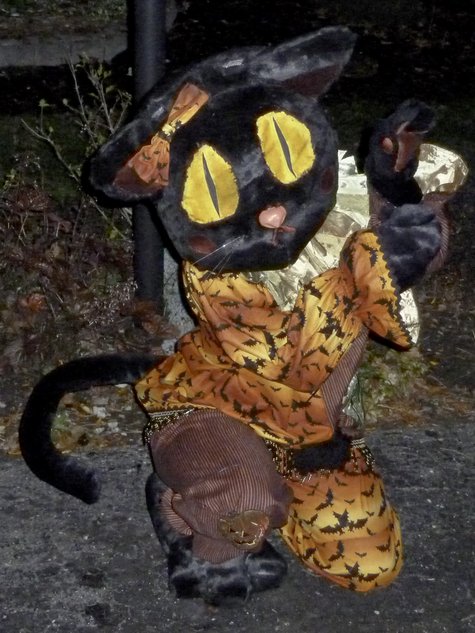 ShareThis
Description
BERNINA Halloween 2011
This is Ms. Halloween Cat. My husband calls her "The Catastrophe".
The design is the McCall's vintage clown costume pattern (which I think is now out of print) with a twist. My dear friend Dawn created the first one, Boo, and I made this one to be his companion in the great tradition of hobo-clown-cat romances.
When I thought of what I would like to be for Halloween, I thought that the idea costume should:
- be work-appropriate (in my case, a high school).
- be able to terrify a jaded teenager
- conceal my identity to make the other teachers curious.
- be a cat
The students' reactions waver between "oh my lord miss I am so scared" to "…what on earth…that's crazy I love it". Either way, I get a kick out of it. I usually have to have someone with me when I wear it as I make my rounds through the classes to distribute the candy, because although the paws are adorable, they are completely useless at holding things.
I am completely in love with cats and I couldn't think of a better way to be one for Halloween.
I did base the paws on those of cat, Mocha.The following vendors can provide quotes on T-Shirts for special events, etc.
I have larger size pictures, but I had trouble uploading them.
<3 cats!
Material Notes
Quilting cotton, 2 types – Fabricland
Wooden bead fringe trim – Fabricland ($20/m)
Pom poms – Mom's 26 year old black acrylic yarn
Cat fur – acrylic fur: extra shiny leather backed for the head and regular fun fur for the paws and feet for breathability.
Base – roll of cushion foam
Bat, pumpkin and leaf patches were digitized and embroidered/appliqued onto polyester organza backing
Serged seams with black thread and pulled open to create ladder stitches.
The eyes are embroidery mesh and I can see out of them.
Difficulty
Intermediate
Categories
For

Material