"Batman-girl" costume
Added Nov 10, 2011
by NeederMoo
Pascagoula, Miss...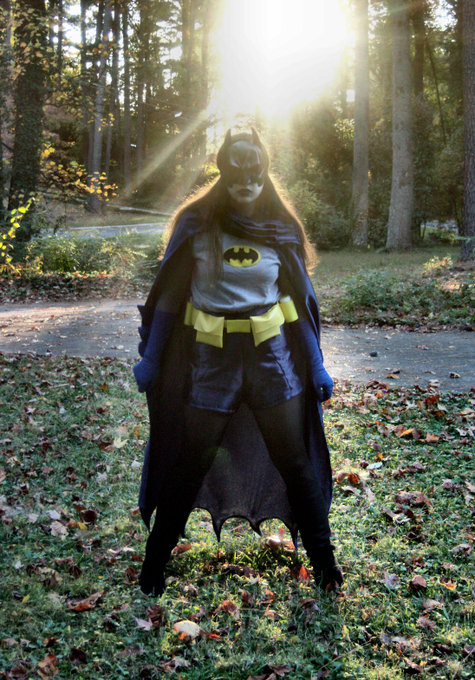 ShareThis
Description
This was my halloween costume this year. I wanted to do Batman's costume from Batman: the animated series, but since I'm a girl I didn't really wanna call myself Bat-MAN, and I didn't wanna be Barbera Gordon-Batgirl, so I call it "Batman-girl"!
I made a cape, shorts, gloves, T-shirt bat embellishment, utility belt, and boot covers.
I didn't use a pattern for the shorts. The shorts are made out of blue satin. I had MANY problems with these shorts; first they were too small, so I added pannels to the sides, then they were STILL too small, so I added yet ANOTHER panel, then I put in the zipper in the back, then I realized the waistline was too high, so I had to rip out the zipper, and cut some off of the top. Thennnnn… the waist was too wide, so I put two darts in the back. I thought my troubles were over when I finished them, until… the seams started unraveling inside, even though I zig-zaged all of the edges! So I DOUBLE zig-zaged the seams, and they ripped out again. sighhhh So I stop-frayed all the seams and right now the shorts are on a hanger in my room waiting to be stop-frayed again. Sorry for the rant! Haha!
I made the cape out of navy blue crepe-back satin, and draped the cape on my sister's dress form. I pleated the neck to avoid a puffy look from gathering, I cut scallops in the bottom of the cape and faced it with navy single-fold bias tape. To close the cape, I made two ties for the neck by sewing two pieces of single-fold bias tape together. The drape across the neck is sewn to the right side, and attaches to the left side with two snaps.
I didn't use a pattern for the gloves either. The shapes on the gloves are blue felt, and the gloves are made out of a blue cotton t-shirt.
The boot covers are black felt and the tops are cut in a half-diamond shape like Batman's.
I bought a grey T-shirt and sewed a black felt bat on a yellow felt oval. The sleeves you see underneath the T-shirt is a shirt I made for another costume.
The utility belt is some neon yellow webbing closed with a parachute buckle (which is covered with a square of yellow foam). I made some pockets out of yellow leather; two small and two bigger (for bat-arangs and what I call "bat-noculars") I covered some pill bottles in yellow foam and put them on as well. I bought the mask for two bucks at Joann Fabrics.
Thanks for reading this long thing and- oh! Is that the bat-signal? Gotta go!
Difficulty
Advanced
Categories
For

Garment Type

Material