Barbara Dress
Added Oct 5, 2013
by alekat
Sydney, Australia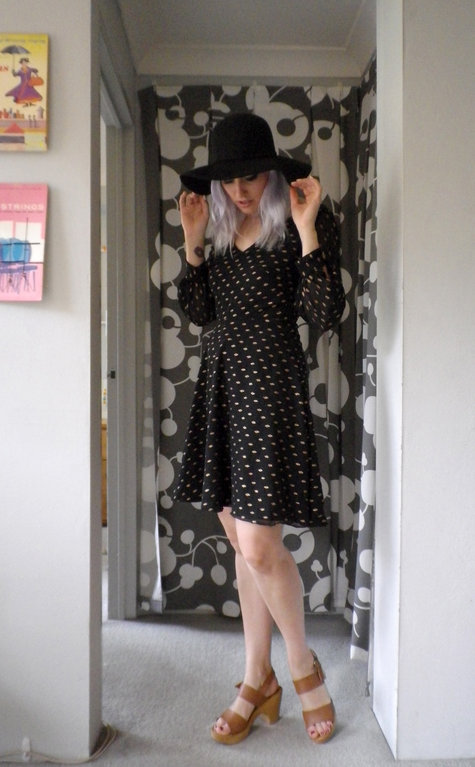 ShareThis
Description
After taking my time to make this, I have finally finished my Barbara Hulanicki inspired dress. It's soft and feminine and even if it's really more 70s than 60s, I must argue – for its inspiration comes from one of the great ladies of the 60s – Barbara Hulanicki
The idea for this dress came when I saw the fabric itself – a black polyester chiffon with tiny gold foil print. The colours reminded me of Big Biba and the fabric design reminded me of the more 60s Biba dresses
My version is black chiffon, lined with black crepe – here was the original idea;
Dress with fitted bodice, a-line skirt, gathered shoulders with bishop sleeves and buttoned cuffs.
Bodice underlined with black crepe, with sleeves to remain unlined. Cuffs to be lined in organza to keep the lightness
Zippered back, hem just above knee length
All of these elements were achieved apart from the puffed shoulders. The sleeve pattern piece I used was for a set-in sleeve and I assumed I could just push all the gathering to the top of the shoulder, but because the sleeve is actually the same size as the arm-hole no gathering was needed! So I settled for set in sleeves and I'm ok with that.
The lining was also used as the facing for the neck line. I ended up attempting something I really didn't know how to do! The bodice was fine but I forgot to do the darts separately – you can only see them on the inside anyway.
Then I attached the skirt to the bodice and inserted the zipper in the back before joining it all together. I may have done it in the wrong order trying to be fancy and sewing the bodice as one piece. The French seams also threw me off – trying to do that, while inserting the zipper on two layers of fabric. Oh my head! At least black fabric is forgiving and you can't see the random open seams!
The sleeves are a little too short and make bending my arms a little tricky – just like the original Biba dresses which stopped their wearers from reaching and bending, ha!
But this was unintentional – The too small cuffs stop the sleeves from moving up and down my arm easily so I have to kind of change the way I move my arm for that day when I wear it
I lined the cuffs with black organza instead of interfacing. It gives lightness to the cuff and keeps its transparency with the chiffon. You simply sew the organza onto the fabric piece before you construct it. Exactly the same as sew-in interfacing but you're not restricted by the lack of colours and opaqueness
The hems were finished with rolled hems, also called narrow hems. I used this technique because the length of the skirt was perfect and I didn't want to loose too many cm. It's also another good seam for chiffon and light fabrics as it doesn't affect the hang.
Most sewing machines come with a special foot to achieve this, but mastering it takes some practice. These seams look neat – but you should see the start of the hem stitch – it's not so neat
Thanks for looking in – you can see more 60s style sewing on my blog
Difficulty
Advanced
Categories
2 Replies

1 Reply

1 Reply

1 Reply

Oct 5, 2013, 08.31 PMby byVA

1 Reply

1 Reply

Oct 5, 2013, 07.24 PMby SassyT

1 Reply

1 Reply