Athena
Added Sep 30, 2009
by jennycee
San Francisco , ...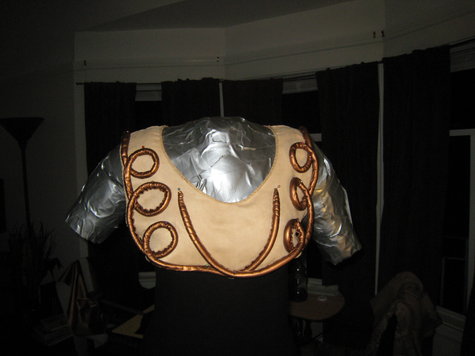 ShareThis
Description
2009 Halloween Costume,
I have done a lot of research and I would like to share with everyone my project as I am making my costume this year. Here it is complete, hope you enjoy it!
Material Notes
Aegis aka breast plate: Vinyl "snakes" with cotton piping for filler, green crystal "eyes", and ultra suede.
Robe/Dress: I believe is a rayon type fabric, not too sure got it at warehouse store, Fabrix here in San Francisco.
Helmet: Metal mesh from art store, papier mache, cardboard "mohawk" for the top of the helmet, and the front of the mask is a store bought "Jason" mask that is cut to shape.
Satchel: ultra suede with "snake" vinyl remnant from Aegis as the liner, leather-like cord, gold art nouveau face from bead store, and a vintage fur collar given to me from my grandmother.
Medallion: Halloween store necklace that I bought "Sculpey" brand clay from the art store and carved Gorgon face into clay and baked in the oven.
The Dress" is 7 yards of fabric drape, tacked at certain points, belted and billowed over to create shape.
Difficulty
Intermediate
Categories