At long last!
Added Jun 13, 2013
by freakusbzzz
Canberra, Australia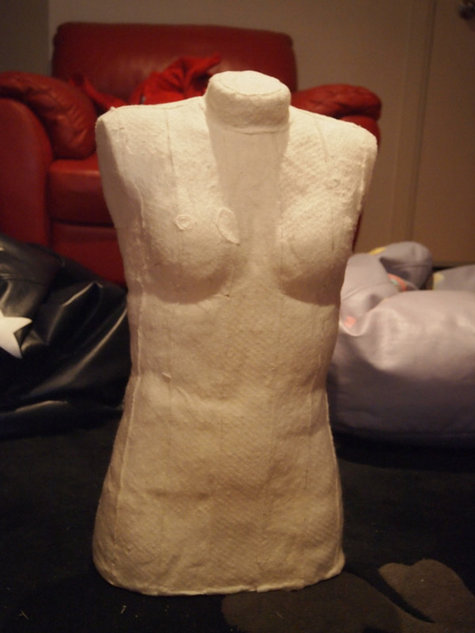 ShareThis
Description
I already have an adjustable dress form but as you can see from my pictures my body shape is nothing like the "standard". I should have actually bought as mens' dress form and put a bra on it. I am just straight up and down with broad shoulders, no curvy bits at all.
I've had this project in the pipeline for about 2 and a half years now.
First attempt was a bit sad, plaster cast which was too thin and paper mache which was way too thick and my ex cut me with chicken cutter scissors getting me out!
I then bought a "my twin dress form" kit and had it sitting in my store room for ages as I had no one to wrap me :(
I finally got motivated after way too many fitting disasters and much ti much $ wasted on lovely fabric.
I paid my baby sitter to do the wrapping, ordered my expandable foam and filled it up.
There were a few voids after I had taken off the plaster cast so then had to fill the gaps with "no more gaps", plus I needed to do a lot of filing as there was alot of plaster stuck on.
After that I used a paint brush to paint Latex over it just to give it a longer lifespan. It's very crumbly and could be damaged easily.
Then I glued on strips of cotton batting to cover all the un eveness from the no more gaps and to fill in the craters on my boobs and butt.
A lovely dad in my sons class made the wood base for it to sit on and then I added the cover and finally the red tape. I still need to buy more though to do hip and side seam marking.
It is probably a little bit bigger than my actual shape, perhaps a cm in circumference which is great cause then I don't have to worry about ease when I['m doing fitting or draping.
It was a massive project and took many hours but I hope it will save me many more hours in dress making time.
So now that I am finally ready to sew sew sew.. I have no time !
Difficulty
Advanced
Categories
For

Garment Type
Jun 14, 2013, 11.43 AMby pambox

2 Replies