Art History 101 with professor Kasia McPlaiderson
Added Oct 16, 2010
by littlewren
Rutledge, Pennsy...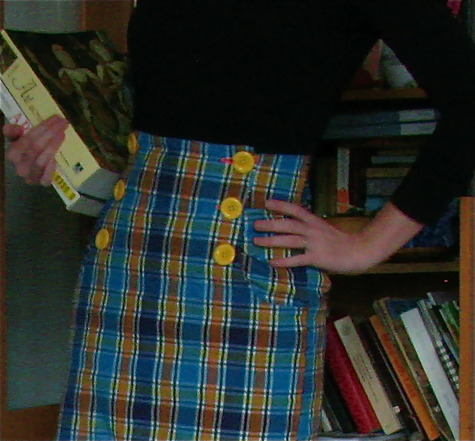 ShareThis
Description
I have been dreaming of this kasia design since I first saw the pattern online. My first or second time to the hand woven minority fabric store I saw this plaid and knew it had to be the Kasia. (I also used it for the Karate McPlaiderson) I Love the colors and the bold lines of this particular plaid. The high waist and the big candylike buttons were perfect with the bright pattern!
When I first looked at the pattern I questioned the gathery pockets… I questioned in for the front, I REALLY questioned it for the back. I think it is a butt gigantifying optical illusion. I regret not changing the pattern… If I use this pattern again I will definitely make some changes there. Also… I am embarrassed that my plaids don't line up. Please don't judge me! I was so excited to sew this that I honestly didn't think hard enough about the detailing… oh well… you learn best when you make mistakes.. now I know! : /
I LOVE the contrasting polkadot fabric for the front pocket! It's like an inside joke! I know I have that Cheery print in the skirt… and even though nobody else can see it… it makes me happy all day long! Speaking of happy, How bout those buttons??? : )
I love the pocket in the front… I think my next project (at some point…) will be to make some Kasia pants!
This skirt is super fun to teach in because it is so bright, even when my classes are a bit boring.. My skirt is bright enough that hopefully it brightens my students' days… (or at least keeps them from sleeping!)
Horray for Kasia!
(on a side note… the Art history books are from the Darien Book Fund! They donate and mail books to Peace Corps Volunteers all over the world. I asked for sewing books (since many of my students are wanting to learn to make clothes after seeing my work, so we are starting a sewing club) and art books for my art club! These books are full of images that are like old friends coming to visit me all the way in China! What a great thing the Darien Book Fund is doing! Thanks Darien!
Material Notes
This is minority fabric from our town… from the same store as usual! : ) this is the end of this batch that i bought… I think I'll have to go pick up another batch soon! (man am I going to miss having access to all this amazing beautiful hand woven heavy weight fabric!)
Difficulty
Intermediate
Categories
This project is based on
Make it