Anita
Added Dec 3, 2007
By burdastyle
New York, New Yo...

Step 11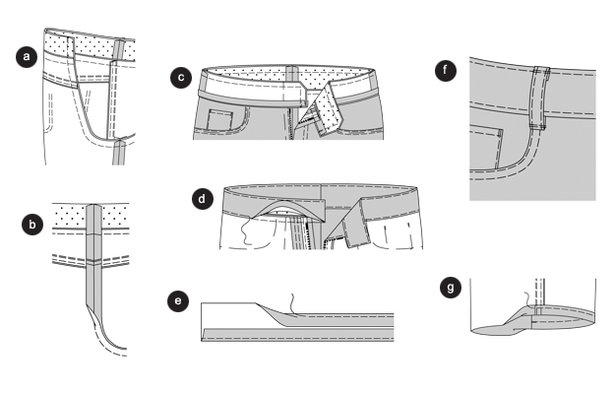 Back center seam
Move pant legs one inside the other, the right sides facing.
Baste the back center seam, also of the waist band. Stitch center seam. Trim allowances and press them apart from the top to the beginning of the rounding (19a). Stitch the back center seam of the still unfinished waistband. Press allowances apart. Press the allowance of the long lower waistband inside. (a)
Pin waist band onto the already stitched waistband, the right sides facing. Seams meet. Stitch the narrow front edges on top of each other. Cut back the allowances cut the corners bias wise. Fold the waistband inside out. Baste edges, press. Baste the middle half of the back waistband onto the upper edge of the pant. (b) Stitch waistband edges narrowly, at the same time stitch the middle half of the waistband ©. Apply a BUTTON HOLE onto the left front waist band. Apply a button onto the underlap.
Loops
Neaten straps and press the long edges inwards, _" (0.7cm) wide. Stitch edges narrowly. Cut the strap into five equal pieces. Fold the ends inwards to make loops. (d)
Stitch the loops onto the back center seam, 1" behind the side seams on the back, and in the front at the pocket openings, in each case onto the upper and lower seam of the waistband. (e)
Hem
Neaten hem, fold inside and baste, press. Stitch the lower pant edge _" (1.2cm) wide, stitch the hem. (f)
Related Techniques
0 Comments on Step 11
Patterns for this Project
Produced by BurdaStyle