Andrew
Added Dec 1, 2008
By burdastyle
New York, New Yo...

Step 8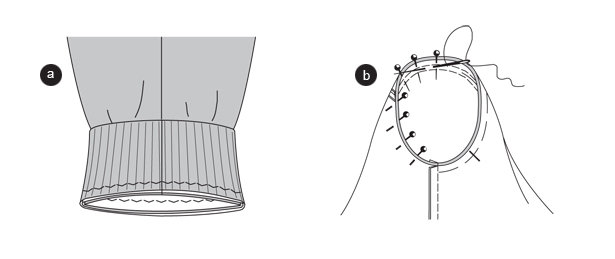 SLEEVE SEAMS
Fold the sleeves lengthwise, right sides facing. Stitch the sleeve seams (seam 6), neaten and press to the side.
SLEEVE CUFF
Close the sleeve cuff to a circle, stitch. Open the allowances. Fold the sleeve cuff into half; pin the open edges, wrong sides facing.
Pin the stretched out cuff on the bottom edge of the sleeve. The seams meet. Stitch the cuff with flatly adjusted zigzag stitch (seam 8). Trim allowances and neaten (a).
APPLY SLEEVE
Pin the sleeve on the armhole, right sides facing. When applying the sleeve 3 points are important for the right "fit":
The cross lines 7 of sleeve and front piece have to meet. Sleeve and side seams have to meet. The cross line of the sleeve curve has to meet the sign on the shoulder. Pin the sleeve from the sleeve side and stitch. Trim allowances, neaten and press inside the sleeve (b).
Work the SNAP BUTTON top pieces into the markings on the left front edge and the waistband. Work the snap button bottom pieces in the edge of the front center. Instead of snap buttons you can work BUTTON HOLES into the left edge and apply BUTTONS on the right edge.
0 Comments on Step 8
Patterns for this Project
Produced by BurdaStyle