Andrew
Added Dec 1, 2008
By burdastyle
New York, New Yo...

Step 3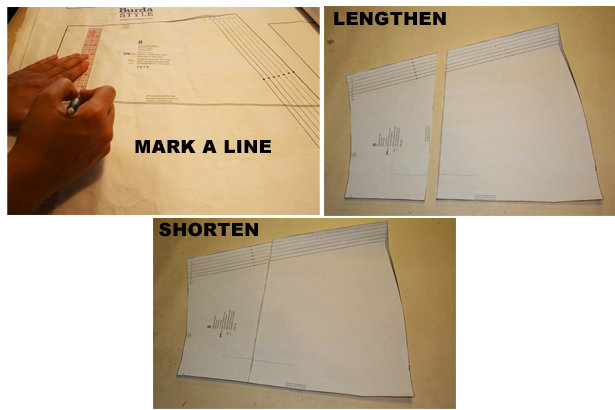 ADJUST PATTERN SIZES
Select your size according to the Burda-dimension table: dresses, blouses, jackets and coats according to the bust size, trousers and skirts according to the hip width. Change the pattern to fit your measurements if they deviate from the Burda-size chart. Cut out the pattern according to your size.
Refer to our 'Adjust patterns for mixed sizes' technique
Sizes 36 to 44 (EU 46 to 54): Mark the spots x for the snap buttons on piece 1. Position the top button with the same space to the neckline edge as size 34; the spot for the bottom button is same for all sizes. The third one will be placed in the middle between the top and bottom ones.
LENGTHENING OR SHORTENING THE PATTERN PIECES Our pattern is calculated for a height of 5' 6" (168 cm). If you are taller or shorter, you can adjust the pattern pieces along the lines marked "lengthen or shorten here". This way the proper fit is maintained. Always adjust all pattern pieces along the same line to the same degree
How to lengthen and shorten pattern pieces: Cut the pattern pieces along the marked lines
To lengthen, slide the two halves of the pattern piece as far apart as necessary.
To shorten, overlap the two halves of the pattern piece as far as necessary. Blend the side edges.
0 Comments on Step 3
Patterns for this Project
Produced by BurdaStyle