anchors aweigh
Added May 25, 2010
Virginia, Virgin...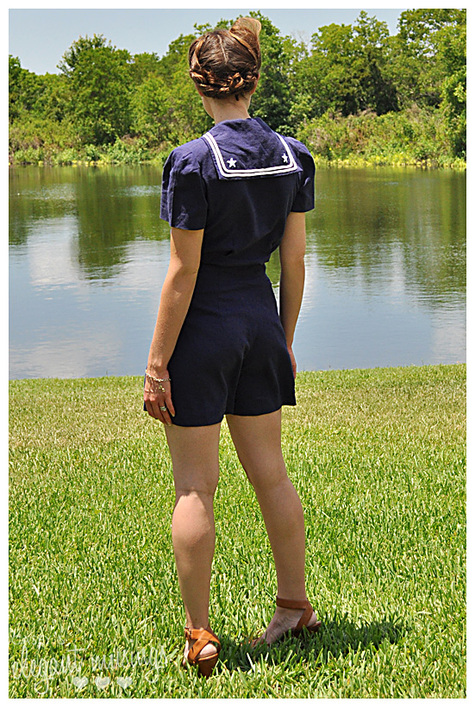 ShareThis
Description
project: 1940s sailor three-piece playsuit (blouse, shorts, skirt)
pattern used: Wearing History reprint
fabric & supplies: navy blue linen blend, white braid, white star appliques
notes: This project has been on the sewing table for a bit, and even longer in my "to photograph" pile! I spent most of one weekend back in March doing the majority of the construction, and finishing details over the next couple weeks (mostly because I was waiting for some buttons I ordered).
There were a few alterations to this pattern; all small fitting issues that I make to most 40s patterns. Most noticeably, I shortened the crotch seam on the shorts; I often find in 30s and 40s slacks the length is far too long (especially for modernized streetwear). Another area I tend to tweak is the sleeves. Most 1940s sleeves I find too long and/or too loose in the upper arm (I have "spaghetti noodle arms" as I call them. A real pain to fit!). On this particular project I just shortened the sleeves an addition 1 1/2″ to a more flattering point on my upper arms, but I left the original width in tact. The final skirt length will also be a tiny bit shorter; since I have proportionately short legs I find that a knee length (rather than just-below-knee length as indicated in many 40s patterns) is more suitable. The only thing I don't like about this pattern is the closure on the shorts. With the buttons on either side of the waist, it just doesn't give me the "nipped in" look I'm used to. A small, piddly detail, but one that will nag at me a bit until I just get over it. lol.
For the curious: yes, I am wearing shoulder pads with the blouse! I lately have been adding some moderate (I don't go for the Linebacker Shoulders Look) pads to various dresses and tops I make from 40s patterns, and let me say, they do improve the overall silhouette! I know I promised a tutorial on how to make your own earlier this year, and I haven't forgotten. I shall have to do that soon as a dress I made needs some padding.
As always, please visit my blog for more details!
Material Notes
linen
Difficulty
Intermediate
Categories
May 26, 2010, 05.21 AMby nessys

May 26, 2010, 12.28 AMby ink

May 25, 2010, 04.56 PMby laurii

May 25, 2010, 04.24 PMby badyan