Alison's Bridesmaids Dress
Added Aug 28, 2011
By burdastyle
New York, New Yo...

Step 1 Preparation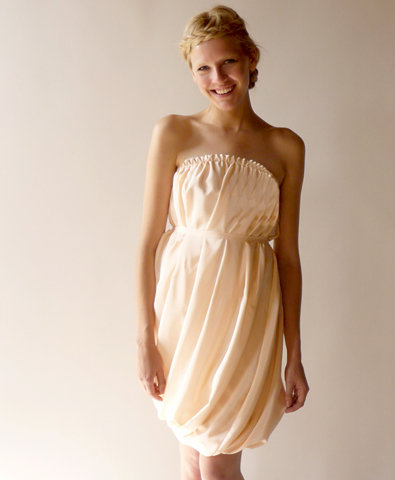 Trace the pattern pieces from the pattern sheet.
Seam and hem allowances:
Seams and edges 1.5 cm (5/8 in), upper edge of lining pieces 2.5 cm (1 in), tie belt 1 cm (3/8 in).
Alison's Notes: The instructions for this dress are tricky to follow. The elastic at the top of the dress is supposed to be channeled only through the top of the lining. That didn't work for me. Instead I sewed the lining and self at all seams; then sewed the lining to the self, right sides together, at the top opening. I made a channel from side seam to side seam across the front for 1 piece of elastic, and another at center back about 6" wide, for another piece of elastic. Because the self is much wider and longer than the lining, I serged the self to the lining at the hem, wrong sides together. This hem is not visible when you wear the dress.
0 Comments on Step 1